This post was shared to us by Angelo Regalbuto of Foto Fratelli.
Let's face it, for yoga enthusiasts around the world, if there's one thing we love as much as our poses, it's striking poses! Whether it be on a beach, a mountain or a lake, capturing the essence of your practice in a single frame for all your friends to relish is as delightful as a well deserved savasana. And with all of the competition out there for yoga teachers, having professional quality yoga portraits can be the deciding factor as to whether or not you get that 9am Saturday morning class that everyone wants to teach. Here are a few tips to take your yoga clicks to the next level.
1. LOCATION, LOCATION, LOCATION!!!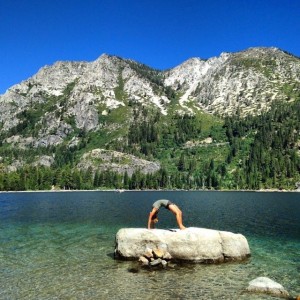 Finding the right location for your yoga portrait is essential. If you have access to nature, try to find a spot that has some of the following qualities: Expansive views, vibrant colors, dynamic terrain and contrasting elements (land and sea, river and rock, branches and sky etc.) If you're living the city life and don't have easy access to nature or just want to show off your urban side, look for giant murals, bright walls, rooftops, cityscapes, and architecturally significant structures to help you paint vivid images that speak to the balance between the form and the formless.
2. Timing IS Everything
When it comes to photography, timing is everything. Typically, sunrise and sunset offer the nicest light for taking photos, they even call it the golden hour. Scout your locations and figure out whether they are best suited for morning or afternoon shots. Unless
you're doing a silhouette, you want the light to be shining onto you and your background. Shooting in the middle of the day when the sun is high overhead can create unattractive shadows. If you're going to shoot in the middle of the day, try and choose poses that lift your face up into the light.
3. Test Shoot
Set up a test shoot by yourself or with someone you trust. This can be done anywhere as the purpose is just for you to see what poses look best with your body and practice. Most cameras these days have self timers on them, phone cameras included. The purpose of
this step is to give yourself plenty of time to think of poses and try them out. Believe it or not, when the pressure is on and you need to get the shot before the light changes, just thinking of a pose can be difficult, let alone picking one that you know will look good. So do a test shoot and know beforehand whether the pose you're thinking of is a faux pas or a fo-sho.
4. Feel Good Wardrobe
When you feel good, you look good! Bring at least three changes of wardrobe, even if you don't wear them all, having options will help you avoid a last minute clothing crisis. And if you did your job right when you scouted your locations, you made a note of what colors are going to be in the shot and picked out your clothes accordingly. Also, bring a sweat towel. Holding poses while your photographer composes the image and tries to get the best shot possible can be more of a workout than you would think.
5. Warm Up, Relax, Be Creative, and Have Fun
The last thing you want to do is hurt yourself trying to get a yoga photo. So make sure you schedule in some time to warm up at the location before the shoot starts. Don't push
yourself into poses you don't belong in just for the fame and glory of a stunning photo, it's not worth it! Remember to breathe, relax your face and neck, and roll your shoulders back. Smile from your heart up through your third eye and keep anchored in your drishti. Because when you're holding dancer pose for a minute and a half while your photographer fiddles with his/her settings there's only one truth to remember- it's what's on the inside that counts.
Angelo Regalbuto grew up in a house that doubled as a production studio run by his father, Vincent Regalbuto. He has a keen eye for beauty, light, form, and the formless. He spends most of his time between California and Costa Rica and can often be found bodysurfing among dolphins or paragliding with the pelicans. Angelo and his brother are the Founders of Foto Fratelli, a photo/video production company that offers air, water, and land based services. 
Tags:
form and formless
,
foto fratelli
,
inspiration
,
light
,
photography
,
yoga photos
---

Yoga Trade