[av_heading heading='A Checklist for Your Dreams' tag='h3′ style=" size=" subheading_active=" subheading_size='15' padding='10' color=" custom_font="][/av_heading]
[av_image src='http://yogatrade.com/wp-content/uploads/2016/01/IMG_9893-1-1030×687.jpg' attachment='53236′ attachment_size='large' align='center' animation='no-animation' link=" target=" styling=" caption=" font_size=" appearance="][/av_image]
[av_textblock size=" font_color=" color="]
One of my dreams is to travel the world surfing and teaching yoga. But everyone around me said "No". What about your 'real' job? You are going to spend all your savings on travel? You are just bringing a backpack? You think doing a YogaTrade is enough to help sustain you? What if you get sick? You're in your 30's, shouldn't you have done this in your 20's? What's your plan for when you get back?
It is really hard to take your dreams and try to walk through that mess of negativity. It's easier said than done, but here are a few steps I have taken to help ensure that my dreams become a reality.
1. Just say "Yes". That's it. It can be very scary. Financially, emotionally, physically. You don't have to commit to it just yet, whatever it may be. But by saying "yes" you allow yourself the freedom to explore your dreams and desires. Because if you just say "No", that's all it will be. A dream. A desire.
2. Be ACTIVE and PURSUE. Most dreams are not easy to achieve or what some may call 'realistic'. So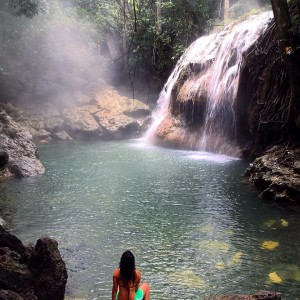 attack it as if it were something that can be attainable, no matter how magic-unicorn-like it may be. Replace your dream with an important work task that could earn you a huge raise. How do you prepare for it? You research and collect information, you set deadlines and goals, you put 100% of your effort into it because it is your livelihood. Start treating your dreams that way too. Know that you have the ability to create the opportunities you want.
3. Seek guidance from people who ARE ON THE SAME PAGE. I cannot stress this enough. The best advice I was given was to talk to people who feel the same way I do about being a traveling yogini who surfs all day (or whatever your dream may be). I love my family, but my biggest mistake was coming to them for advice because all I got back were the negative questions I wrote above. Understand that this is them loving you. Listen to what they have to say because they are valid concerns and be happy you have a family that cares for your well being and safety but keep a healthy distance and do not allow yourself to be engulfed by other people's fear of YOUR dreams. Instead, go to those who have walked down the path you want to explore. Even something simple like joining a Facebook group for people who have the same dream as you will make a huge difference. Start reading other people's blogs and reach out to your friends. You never know someone in your circle may know a person that has done what you want to do. Their positive feedback will only encourage you to keep pursuing your dream.
4. Be your own parent. Our families are right, you know. Traveling to a third world country can be dangerous. What is going to happen if I get sick or hurt? What will happen to my job? There are answers
to all these questions. It's no big deal, just answer them. If it's dangerous, what do I need to take with me to be prepared? If I get sick, where do I go? My job? Let me talk to them. Maybe they'll let me come back. Maybe I'll have to be let go. Bottom line is, you have your answers. You are being responsible and you are taking care of yourself. If this is your dream go for it. And take care of yourself.
5. Be patient and INVEST. When I decided I wanted to be a traveling yogini who surfs all day, I had to invest a lot of time and money to make this happen. I spent 3 months and over $3,000 dollars getting my 200HR Teacher Training. It took me half a year to save enough money to even start considering traveling and I did a ton of research on where I could work and how I could sustain myself as a teacher. I found this beautiful community, YogaTrade, which helped me make my dream become a reality. There are a ton of resources out there and they need to be discovered. Put in the time and money your dream deserves and be patient.
6. You Live. You Learn. You Change. Accept that we are always changing. Your dreams can change too. Know that you may work very hard at one dream and it may shape into something else. Your dream could be to travel the world and then you may meet someone through your perusal and now it has changed to wanting to settle down and have a family. Embrace your life for it is constantly evolving. Never look back at what could have been. No matter what the outcome, world traveler or mother of 4 kids, you lived the life YOU wanted and went for your dreams.
7. Just say Yes – again. Just like the beginning of your journey to your dreams, it comes full circle to saying yes again. Once you have accepted your dream, have been active and pursed it, done your research, talked to others, taken care of your responsibilities, saved your money and done all the other things you needed to do to prepare for it, there will come a day when the opportunity YOU created to pursue your dream comes knocking on your door. This is the hardest time to say yes because it is the scariest. Trust in yourself. You did the work and it came. Just say yes.
Jenna is a performing artist, yogini, avid surfer and lover of life!
Jenna loves to laugh and share her passion of surfing and healthy living with others.
Stay in touch:

www.JennasAdventures.com
Instagram: JennasAdventures
[/av_textblock]
[av_one_full first][/av_one_full]
[av_one_half first][/av_one_half]
Tags:
Adventure
,
checklist
,
dreams
,
pursue your dreams
,
surf
,
travel
,
yoga
---

Yoga Trade