I was ready to leave my life of a stressed yoga instructor in Miami. Miami is a really fun city but does not fit my taste for narrow alleys, cute cafes, farmer's markets and nature proximity.
I was done being woken up in the middle of the night by trucks. I was done sitting in traffic praying I'd make it in time to teach my class. I was done parking through valets,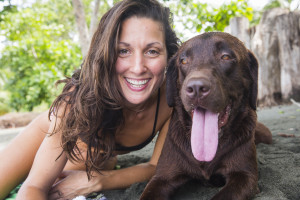 done with anonymous elevators and 30 story buildings. Most importantly, it was becoming apparent that I was trying to teach people the one thing I needed the most: how to de-stress and stay positive.
I was done.
I wanted to simplify, to shed, to revert back.
I wanted nature, deserted beaches, a simple life, wholesome foods. I did not want to carry or own more than my Hawaiians, a few pairs of shorts and bikinis.
Nor did I want to move somewhere and build a life for myself, find a home and buy a car. That would mean settling again and I wanted freedom. I wanted to go to a place that already provided the grounds for me to unplug, grow and live simply. I also wanted to challenge myself and see how I would do in an isolated, jungle-like environment.
One day I was searching on Yoga Trade, and then found Blue Osa, in Costa Rica.
I had a really good sense of what Blue Osa looked like because I had conducted plenty of research from the website and had read the Trip Advisor reviews.
I knew the beach was a few meters away from the property, which was a must for me. I also knew the property was groomed and well maintained but it preserved a rustic and genuine feel. I knew Blue Osa had a well established calendar of events which made me feel confident they were a legitimate business.
I have to admit my favorite part of the property is actually the front lawn with the big tree in the center. I grew up in a tiny apartment and I always felt really trapped and
longed for grass. Since I've been living on my own I have always sought places that felt more like home with a big lawn. When taken out of its tropical context, the Blue Osa lawn could fit really well in front of an old Victorian house.
My favorite thing about Blue Osa is the open mindedness that pervades it. Everyone from the staff to the guests and volunteers is very accepting and at ease.
I come from a ridiculously small town in rural Italy, where I was always judged for everything I did, what I wore, said or didn't say, and who I hung out with. At Blue Osa no one reacts weirdly to any type of human behavior. People here just don't get worked up over unnecessary stuff. If anything is odd, they just laugh it off. There's a disarming acceptance of all aspects of human nature that is so refreshing. It overrides any language or cultural barrier. Because let's face it, real life isn't about what you wear or what you look like, it's about being human, with all your flaws and unique traits. The atmosphere in Blue Osa is also very joyful.
I often got reprehended in middle school for laughing too much. Here, there is no such thing as laughing too much! At Blue Osa I feel liberated and can embrace my laugh.
In my yoga professional volunteer position I got to teach yoga and learn about the social media and marketing aspects of running the business. I learned a lot through the completion of various projects and I was constantly feeling inspired by a bigger vision and team work with the other volunteers. I was basically learning the same if not more than if I were taking a few semesters of "marketing" or "social media" at college. With hands on experience, which is a huge plus.
The yoga aspect was also fundamental. I have met some incredible yoga retreat leaders who go to Blue Osa. Teaching week long private retreats allowed me to meet some truly cool people and watch their transformation while learning about the more intimate details of their lives.
Growth at Blue Osa happens constantly and freedom to express yourself is granted at any moment. Expressing oneself doesn't just mean turning the volume up, but also being granted the opportunity to turn inward without being questioned.
I highly recommend Blue Osa for a vacation, a yoga retreat, or for volunteer opportunities.
My name is Valentina Rose and ever since I left Italy I have lived in NY, FL, and Costa Rica. I now reside in Marin County, CA. I am a yoga instructor and I host yoga retreats in Costa Rica. Some of my likes are: unicorns, 11:11 and music festivals.
Tags:
blue osa
,
Costa Rica
,
osa peninsula
,
volunteer
,
yoga
,
yoga trade
---
Yoga Trade