Every spring and fall a gathering full of Love gathers in the California desert. These heart inspired unions are called Bhakti Fest. The Bhakti Festival brings well know yoga teachers such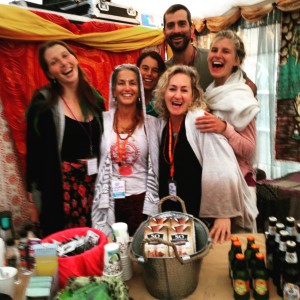 as Shiva Rea, Kia Miller, and Mark Whitwell, kirtan musicians such as Jai Uttal and Donna De Lory, and interesting people from around the world together for a few days to celebrate life.
The celebration is held at the Joshua Tree Retreat Center, a place with magical energy, big skies, and naturally beautiful views. Bhakti Fest also comes together once a year in the Midwest.
The word "bhakti" means devotion, or pure love. So bhakti yoga can be defined as the practice of connecting with the divine, and to continue to reestablish that relationship and connection through acts of love and devotion.
The spring festival is usually a bit more intimate and is known as Shakti Fest. "Shakti" is
the primordial cosmic energy and represents the dynamic forces that are thought to move through the entire universe. Shakti is the concept of the divine feminine creative power.
Bhakti Fest offers incredible "seva" programs at their events. Seva can be translated as selfless service, or work performed without any thought of reward. Seva is believed to help one's personal growth and contribute to improving community. The "seva" at Bhakti Fest can also be defined as "work exchange". One can volunteer in various departments of the festival to work in exchange for free admission to the festival.
Volunteering at these kinds of events can be a life changing experience. You can get a whole new perspective from working behind the scenes at these events, create life long friends,
and build meaningful relationships. Engaging in work exchange can also give you a deeper appreciation and a feeling of an equal flow of energy exchange.
Getting involved with work exchange at festivals is also a wonderful way to dive into the world of "yoga trade". If you are new to participating in these types of exchanges, weekend events are a great way to start.
For more information about Bhakti Fest and to reach out to become part of the work exchange team, connect here:
http://bhaktifest.com/work-exchange/
The secrets of the universe are in you, as you. Stop searching, START LIVING!
BIG THANKS to the Shakti Fest 2015 Green Room Seva Crew and everyone that makes these kinds of events possible!!!
Erica Hartnick grew up in the Sierra Nevada foothills of California, and enjoys all things wild and free. She teaches nature inspired yoga and leads mindful adventures in California and Costa Rica. She gets excited about; LEARNING, intense weather, glassy ocean peaks, pillows of fresh powder snow, crystal clear water, positive people, cultural travel, thriving vegetable gardens, fresh mint chip ice cream, nature's glory, LIVING YOGA, and connecting with others. She is passionate about the collaboration with friends that led to the creation of Yoga Trade, and is devoted to connecting the yoga community with infinite opportunities!
Tags:
bhakti fest
,
joshua tree
,
seva
,
shakti
,
volunteer
,
work exchange
---
Yoga Trade