The passion of Yoga Trade is to inspire and enable yogis to follow their bliss around the globe. This is the story of Patti O'Donahue, a Yoga Trade member who was able to connect to an amazing opportunity at Blue Osa Yoga Retreat +Spa. In March and April of this 2014, she traveled to the Osa Peninsula in Costa Rica via Yoga Trade as a volunteer writer for Blue Osa an off the grid ecological oasis in the rainforest. Here is her confession: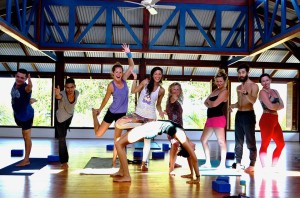 Why Yoga Trade?
I first met Erica Hartnick in 2010 at Yandara Yoga Institute which is not far from Todos Santos, home to the wildly colorful Hotel California on the Baja Penninsula in Mexico. Erica and I, along with twenty or so others were attending yoga teacher training. We gathered each morning on the beach to meditate with the rising sun; followed by a full day of yoga and closing with a celebration of dancing, drumming, and chanting.
I was drawn to Erica's pure heart, her adventuresome spirit and natural beauty. She loved surfing and traveling and continued these activities after our time on the Baja; only now with the added element of yoga. Her combined experience as a global citizen along with her passions later became Yoga Trade where opportunities to be of service are shared within the yogic community.
I had just finished a year of caring for my Mom who had memory loss and struggled through a lot of fear for her future, and had published a book called, "The Gift: Intuitive Leadership, Inspiring a New Dream of Earth." I was searching for a tropical location in a community of like-minded people where I could be of service and make a graceful transition from one life chapter into the next.
What made me decide to volunteer at Blue Osa?
When I thought of looking for an opportunity to go to Central America and be of service, I immediately thought of Yoga Trade because of my connection with one of the founders. Yoga Trade is an empowering online network for the yoga community and as I scrolled through all of the listed opportunities I was instinctively drawn to Blue Osa Yoga Retreat + Spa, located on the Osa Penninsula in Costa Rica. A choice confirmed intuitively after a couple of Skype calls to Aaron, one of the owners. As an intuitive, I often heard his belly laughter chuckling in my ear like a smiling Buddha as I went about my day on Vancouver Island (Canada). His joyful resonance in my life without our having met personally was my soul's confirmation.
What was your first impression of Blue Osa?
I flew down from Vancouver Island on the westcoast of Canada stopping first in Atlanta, Georgia to visit my
brother Bill and his family. After a week, I departed to San Jose, where I got on-board a small carrier called Nature Air. My flight with Nature Air was spectacular to say the least; flying through the clouds with close up views of the jungle coastline, rivers and mountains before touching down in Puerto Jimenez. Upon landing, I was greeted by a friendly man who called out my name and beckoned me to come with him. He introduced himself as Nago, and took me on a tour of town before heading out down a washboard gravel road where we arrived at the gates of Blue Osa about 20 minutes later. Nago then led me to the office, where I was met by Michael (Manager) and taken to my volunteer accommodation.
I acknowledge being completely overwhelmed, but in a perfectly wonderful way as Blue Osa is located in the rainforest jungle, which is a vibrating and pulsating with the rich diversity of life.
What is your favorite thing about Blue Osa?
The people: the local staff, visiting volunteers, the workshop leaders and their guests and of course Aaron &
Adam.
The resonance of warmth and kind heartedness felt through living within a community that is inclusive of the diversity of people & the natural world.
The Blue Morpho Butterfly! You have to see one to feel the excitement. They are from another world.
The resident dogs: Rama, Steve & Pete.
What is your fondest memory of Blue Osa?
Oh, my goodness. Which one? There are so many. How can I possibly just choose just one?
Strolling down past the laundry to find Nery and Ivania (staff) dressed in drag as the Blond Bombshell and the Red Dinamo. When I turned the corner, both women were busy primping themselves while giggling and taking Selfies. I will never forget that moment. It was full on belly laughter!
Having 200 dolphins spontaneously jump out of the sea and start dancing in the interplay between the water and sky. I screamed with exhilarating Joy!
Watching as Michael helped 10 naked women out the ocean; after they had stripped and jumped off our tour boat to go skinny dipping. Then later that evening, seeing him serve them all cocktails with the utmost of professionalism.
Walking the beach with the dogs. Rama my protector and Pete and Steve pouncing along with hearts full of joy, and not a care in the world. One of the dogs really bonded with me, but I never could figure out if it was Pete or Steve. All three would follow me (or anyone for that matter) down to the ocean for a swim, and one of them would literally drown me if I did not cuddle and cradle him like a baby in the womb of the water. I am a sucker for soft eyes and a baby face and this brown beauty was simply irresistible
Jumping up onto the back of a Colectivo (basicallya big open truck with seats) and traveling to Carate. Carate
is a dot on the Costa Rican map, and an entry point into the Corcovado National Park. A place that everyone told me not to go to as I needed a guide, and warned me that I had to pay for a pass in Puerto Jimenez before I could even enter the park. One last item was that there was absolutely nothing in Carate, and no easy way back to Blue Osa. I completely ignored all the warnings as I needed an adventure, and knew I could create one if it did not exist. I arrived at Carate where I could see that everyone was right, there was nothing there. I jumped off the Colectivo in preparation for an adventure anyways, where upon I was met by a smiling woman who announced with frustration that her park guests had still not arrived. My response was, "Oh, how fabulous! I want to go into the park and I need a guide and a park pass." My guide and I had a wonderful day walking in the jungle, and I learned about the natural history while engaging in stimulating conversations on the topic of women's empowerment. Back in Carate we didn't have to wait long before hitching a ride in a taxi headed back to Blue Osa.
Dancing with a tribe of wild women at a jungle bar in the middle of what seemed like nowhere.
Learning how to dive under a towering wave before it crashed down on me, spinning me upside down and tossing me out. This achievement brought me a great sense of accomplishment and peace in the ocean.
Butterflies and Red Earth. You will have to contact me to fill in the details on this one!
What did you find the most rewarding?
Mmmm . . . . . again, it is difficult to name only one.
I guess I would have to say working on Aaron's book. It was a transformative process. At the beginning there were so many files, as he had accumulated years of research and information, and it was all in a random order that did not initially, make any sense to me. I felt frustrated, and had to practice patience in allowing the creative process to flow from Aaron through me and into a book format that mirrored his life's story. The storytelling needed a container and I am an intuitive who needs to see the end before I know the beginning. It took time for me to visualize the structure of the book in a way that was organized, intentional and meaningful for Aaron and the readers. At one point, I saw the chakra system in my mind's eye which enabled me to see the rest of the writing project with great enthusiasm. As Aaron reflected to me from, "Women Who Run with the Wolves" author Clarissa Pinkola Estes, "You cannot rush the creative process; she will make herself known when the time is ready to give birth."
What did you find the most challenging about volunteering?
Sweating. All day. I coped with the humidity by swimming and changing my clothes 3-5 times a day just like my daughter did when she was a little girl.
The workspace. I am a writer who needs a lot of quiet time to collect my thoughts and filter them through my fingers and I was challenged at times to find a peaceful place to think and to write. At one point during my stay, we had 7 volunteers at Blue Osa which made for a rich social atmosphere but a challenging work environment given that the Wifi is only available in one small area.
Baby Iguanas. Cute but they eat a lot of garden greens.
My container and sharing a bathroom with 20 people.
Bugs & Insects. My blood type is O – and I like sweets. This combination apparently makes me a favorite meal for mosquitos and various insects. Consequently, I had a lot of bites where many others had none.
Bad hair days . . . I have wavy hair and the humidity and the salt in the ocean did not result in great hair.
What piece of advice do you want to leave behind for future volunteers?
This is a fantastic volunteer gig for people 30 years and under. If you are over 30, I highly recommend having a conversation with Aaron or another volunteer just to make sure you have a realistic image of the living quarters. I am over 50. The containers are eco-friendly and they are nice, they just weren't ideal for me.
Go with the flow. This is a dynamic and rapidly changing environment. Which is fantastic, just don't hold on to tightly and remember to breath.
If planning to take a bus trip in Costa Rica; get a bus pass prior to avoid standing for hours.
Blue Osa is isolated. If you are staying for a long time, make sure you take a day trip away from time to time just to recharge and have your own personal adventure. The Osa is a beautiful place and it adds to your experience!
This is a fabulous karma yoga opportunity. It really truly is. Be prepared to expand on multiple dimensions and have your heart melt.
Listen deeply. Living in the jungle is a magical experience!
Thank you to Yoga Trade and Blue Osa Eco-Wellness Retreat for creating this opportunity to be of service. What you give, so shall you receive and I received in abundance.
Patti O'Donahue is an artist, writer, consultant and speaker on intuition and dreaming new dreams. She spent two months at Blue Osa Yoga Retreat + Spa volunteering her services as a writer and working on Yogi Aaron's book titled, Auto Biography of a Naked Yogi.

Patti grew up on a rural farm listening to stories of dreams, voices of wisdom and mysterious knowings from the women in her family. She spent her adult years leading transformative ecological programs and dedicated the past ten years to working and learning from indigenous peoples. Patti eventually went on to graduate school where she researched and wrote on intuitive leadership. She recently published "The Gift, Intuitive Leadership: Inspiring a New Dream of Earth."

Find out more about her at: http://www.intuitiveleadership.ca
---
Yoga Trade