Cover Photo: SzJanko Photography
The ocean is one of my greatest teachers. Over recent years, I have been fascinated by the concept of free diving and the mental strength and grace I observe in those who practice exploring depths beneath the surface on a single breath. This past March, I arrived in Bocas Del Toro, Panama after spending an adventurous week sailing from the San Blas islands. As I took a morning stroll from the humble place I was staying, I noticed a sign outside of the Bocas Dive Center that read, "Free Your Soul – Try Free Diving". This sign immediately drew me in, so I walked closer to read the details. I found out there was a yoga class on the water front deck that evening at sunset and that the yoga teacher was also one of the free dive instructors. I went to yoga and it was just what I needed, a wonderful class! I stayed afterwards to chat and found out more about the free diving course details. This led me to extend my time in Bocas by 24 hours so that I could at least take a one day class in free diving. The course blew me away! The instructors Gabrielle and Ariel are amazing humans and incredible teachers. With their guidance, teachings, and support, I made it down to 13 meters in one day! I am super inspired by the passion that radiates from Gabrielle and Ariel and their creation of Blue Chitta. They offer courses, trainings, and retreats all over the world that create space to experience full body and mind potential. Free diving is a fantastic compliment to yoga and meditation and I look forward to training with these two more in the near future. Learn more about this aquatic duo and what they do in the interview below…Thanks for diving deep!
Super excited to join in for the Freediving and Yoga Retreat in Bali //November 11 to 17 2018!
"From birth, man carries the weight of gravity on his shoulders. He is bolted to the earth. But man has only to sink beneath the surface and he is free." Jacques Yves Cousteau

Can you tell us a little about your yoga background and how you met?
We both have a pretty strong yoga background, we started practicing about 8 years ago when we were still in the  scuba-diving business. We found something very special in the yoga practice, a deep feeling of inner peace & an opportunity to make the impossible a possibility. Ariel did his first Ashtanga Yoga Teacher Training Course in 2011 in Rishikesh India and started to teach yoga in Eilat, Israel soon after completing the training. We met in Eilat in 2011 in the dive shop where Ariel was working. I was a dive master at the time and I went to dive the Red Sea on my way to Thailand. We met in the public shower after the dive, he offered me soap and later on tea, we straight away had a special connection. That weekend, I went to my first Ashtanga Yoga Class led by Ariel in Hebrew! I continued my trip and made it to Thailand where I started practicing yoga more regularly in the local studios. A year later, Ariel moved to the same island I was living on (Koh Tao), to become a freediving instructor and started teaching yoga at the local yoga studio. I went to India to do my first TTC with Sivananda and a couple months after I completed a second TTC in Ashtanga and started working full time as a yoga teacher. By the end I was head teacher at the studio, teaching most of the classes from Hatha to Yin with a special love for Vinyasa & inversions. Ari was teaching freediving full time and spending his free time teaching Ashtanga Yoga or giving Thai Massage. We also started to practice and teach AcroYoga, a community based practice that blends the wisdom of Yoga, fire of Acrobatics and love and kindness of Thai Massage. In 2014, we founded
Yoga Shak Montreal
, a peaceful oasis in the city center of Montreal, a yoga studio dedicated to sharing good vibes through Yoga & Meditation.
You both started as scuba divers? Why did you make the crossover to free diving?
Getting more into yoga brought a change in our lifestyles. The scuba-diving business is very hard work, a lot of sophisticated equipment involved and the day usually ends at the bar at what they call "Beer O'clock". It was fun for a few years but after a while we started looking for something else. Evolution is an ongoing process. We would skip "Beer O'clock" to practice yoga and meditation, we started to feel much more connected to our bodies and realized the power of the mind. When we came across freediving we felt like it was the perfect combination for us; mixing meditation, breath-control, our love for the ocean and offering a much more balanced life-style as well as a sense of freedom. Letting go of our heavy sophisticated equipment just made sense, it was part of our evolution, like a snake letting go of it's old skin.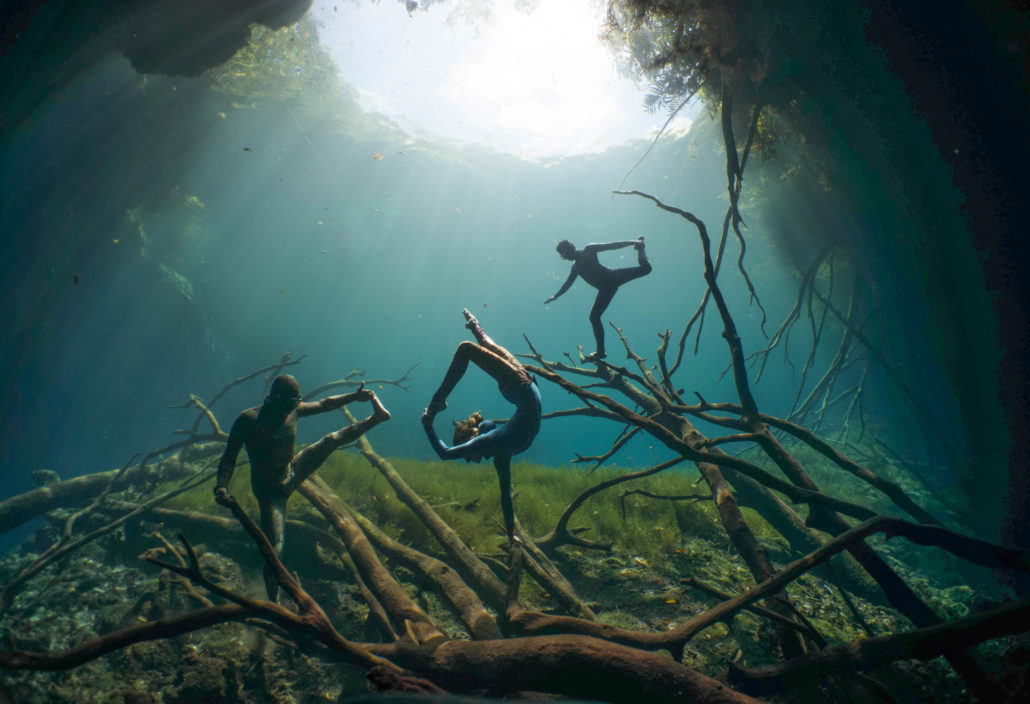 Photo: JF Gutierrez
Why do you feel yoga and freediving work so well together?
For us, yoga and freediving are two sides of the same thing, and at the same time are very complementary. The same principles apply in both yoga and freediving; using the breath to unlock the body and the mind to their full potential, creating space between the sensations and the reaction, and moving from fear to trust. They both bring us a deep sense of freedom, inner peace and Oneness. Practicing yoga and meditation is a part of most freedivers' routine because it enhances their ability to stay calm under pressure, increase their lung capacity and keeps their body strong and healthy. Freediving is like taking the yoga practice into the ocean. The water is a very cleansing element, it brings up to the surface our deepest fears and gives us the opportunity to let them go, creating space for new beginnings and eventually bringing a great sense of empowerment. In both freediving and yoga, we get to let go of what is no longer serving us and to realize the limitless potential of our body & mind!
What kind of experience does one need to start free diving?
None. What we love about the way we teach our courses is that they are adapted to each student. We've had students who were terrified of the water…one woman could not even put her face in the water without panicking. With her, we worked on breaking mental blocks, creating new patterns of reaction and learning to trust the ocean. It took a little bit longer but after a few weeks she made it to 24 meters without any stress or fear and with a beautiful technique. Some people just want to learn the basics skills so they can go explore the reef safely and comfortably, others want to push their limit and dive as deep as they can…whatever it is, our general goal is to see some kind of improvement during the course and meet everyone's individual needs and expectations. Knowing how to swim is a good start, but some people have even learned how to freedive before they could swim! Freediving is such a vast world, there is something for everyone and this is why we can allow ourselves to adapt the courses to each individual.
Can you recall one of your most memorable dives?
One of our best dives was in Mexico…we went freediving with a friend, we took a local boat to the reef and when Ariel did his first dive of the day to about 30 meters, he came back up with four dolphins spinning around him! I could not believe it! The dolphins were so curious, they were talking and singing and playing around with us for about an hour. They were copying our every move, if we would dive they would dive, if we would jump they would jump, spin they spin, it was spectacular! There is something magical with having a connection with dolphins; they establish a very strong eye contact and you instantly realize that they are much smarter than we can imagine. We can hear them communicating underwater with their whistle and it feels like we can understand what they are saying. In the end of the day they are mammals just like us, our bodies are very similar and react with the same adaptations when we dive into the sea on a single breath. I think this is why freediviers and dolphins have a special connection, they remind us that we are all the same, part of a whole, WE ARE ONE! <3
Another spectacular dive was Ariel's first competition dive in Free2Be Comp. in Eilat. Competitions are very stressful for everyone; organizers, athletes and coaches. This was Ariel's first competition and he announced a 60 meter dive. As his coach, I was at the surface waiting for him while he was diving down, not allowed to dive with him or else he would be disqualified. This would be an "easy" dive for him regularly and he'd been going to this depth and deeper many times before, but to dive down alone on a single breath with all the adrenaline and the stress of everyone around was a whole new thing. He had about three minutes to breathe before he went down. The safety team was making sure he was hooked correctly to the line with his lanyard and counting the time down until it was his time to take a big breath and dive down. For the whole way down Ari was alone, leaving the stress and tension behind him, focusing only on his equalization, the present moments and letting go of any unnecessary stress or expectations. At the surface we were counting the time, after about 75 seconds we felt the turn, the safety team went down to meet him at about 30 meters on his way up. I still wasn't sure if he had made it all the way down or not. Eventually I saw him coming up, as he winked, I knew. Once he surfaced he had 15 seconds to do three things in this specific order; 1- Clear his airway (take his noseclip off), 2- Give the OK hand signal to the judges, 3- Say the words "I AM OK". He did it perfectly without any signs of hypoxia or weakness. Following this, he had another 15 seconds to show the judges and the crowd the tag he had picked up at the bottom plate while keeping his airways above the wavy waters. He did all of this like a Boss! He looked so fresh and clean that the judges told him he should have gone for a deeper dive!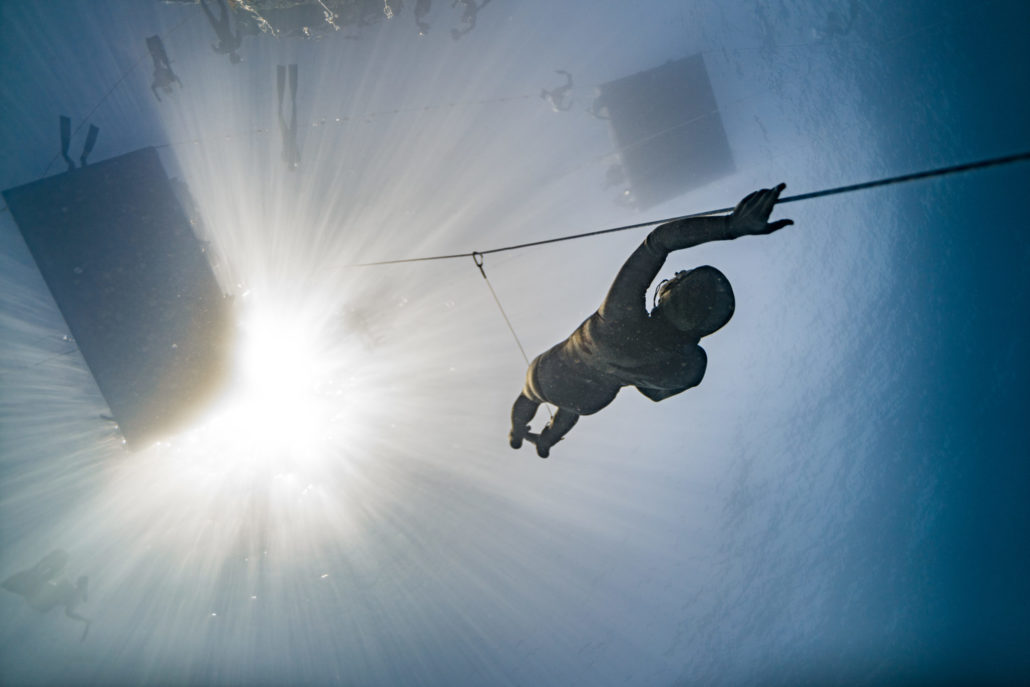 Where is your favorite place to dive?

Next to big animals!!! We were teaching in Mozambique, Africa for a while and on almost every dive we would see humpback whales and it was mind blowing every single time! Diving with Mantas in Bali is always EPIC and the dive with the dolphins in Mexico was definitely one of the best! But the ocean is unpredictable and the same spot can look completely different from one day to the another.
Anything else you'd like to share?
We have some amazing retreats and trainings coming up later this year! Discover your true potential in this unique 6 days all-inclusive Yoga and Freediving Retreat by the Sea led by Gabrielle GQ & Natalie Rudman  November 11 to 17 2018 in BALI. You will be breathing a lot; exploring various pranayama that can be applied both in the practice of Yoga and Freediving, connecting your mind and body through Yin Yoga and Vinyasa Flows, eating delicious local vegan food and learn how to explore the ocean on a single breath!
Learn more about the November Bali Retreat HERE
Blue Chitta was founded in 2014 by Ariel Kedmi & Gabrielle GQ, two Nomad Ocean Lovers who want to share their passion for Freediving, Yoga & Thai Massage with the world! Blue represents the infinity of the sea and the sky and the love of the ocean. In India and in the Yogic Philosophy, Blue is a divine colour; the color of All-inclusiveness. Sadhguru says that anything that is vast and beyond our perception tends to be blue & this is why so many gods in India are shown as blue-skinned. Chitta is a sanskrit word that means consciousness or the connection between the Heart and the Mind.  Blue Chitta is about revealing the full potential of our mind, body and soul! Since 2014, Blue Chitta has been offering freediving and yoga trainings around the globe, from Africa to South East Asia passing through the Red Sea and all the way to the Caribbean!  Always looking to create life-changing experiences whether it's through workshops, retreats, courses or trainings! 
Tags:
Blue Chitta
,
Bocas Del Toro
,
continuing education
,
diving
,
free dive
,
free diving
,
Ocean
,
yoga
---

Yoga Trade