At first thought, the mix of entrepreneurship and yoga may seem like a paradox. Mixing business and yoga!? But really, when we are able to free ourselves from duality, we see that all things, including entrepreneurship and yoga are deeply connected. How incredible is it to be able to weave threads of yoga into our businesses and everyday livelihood. Also, a current theme in yoga evolution today is that of leadership. Taking responsibility as a teacher of yoga to not only teach students how to keep calm in challenging physical postures, but also how to step off the mat, lead with the heart, and ignite positive change within community. We are fortunate to live in a time where there are many extraordinary teachers of yoga offering many amazing things. Here with catch up with with one of these extraordinary yoga warriors; Adi Shakti. This woman and teacher blends her journey to purpose, devotional service, and professional development in a beautiful way. Continue to read and be inspired by her story and actions:
Tell us about your yoga journey…
I am a philosopher by nature, and I have been obsessed with the big questions since I was a little girl. I lost a lot of people I loved early in my life – and it made me terribly curious about the WHY of our human experience. Why are we here? And what are we to do with this life? This led me to higher study of the great thinkers through my time at University, and eventually I stumbled across the yogic philosophy. I had never found a philosophy that also gave such a clear path to not only knowing God, but also to having a direct experience of God. Through lifestyle, the body, the breath, and the practice of meditation. I was fascinated.
This is what started my journey into the lifestyle and philosophy. I did my initial training with the Shambhavananda discipline in Chicago, and a couple of years later spent a few months in India where I studied with my master Yogrishi Vishvketu. Since then, I have continued my own studentship and have also started my own yoga school where I have educated other seekers at the 200 hour, 300 hour, Pre-Natal and Trauma Informed professional certification levels. I am now partnered with Yoga Journal teaching Trauma Sensitive Facilitator Skills Training certifications around the United States – to focus even more on the BIG question – How can the yoga community serve as a powerful vehicle for social change? And this is my passion and focus currently.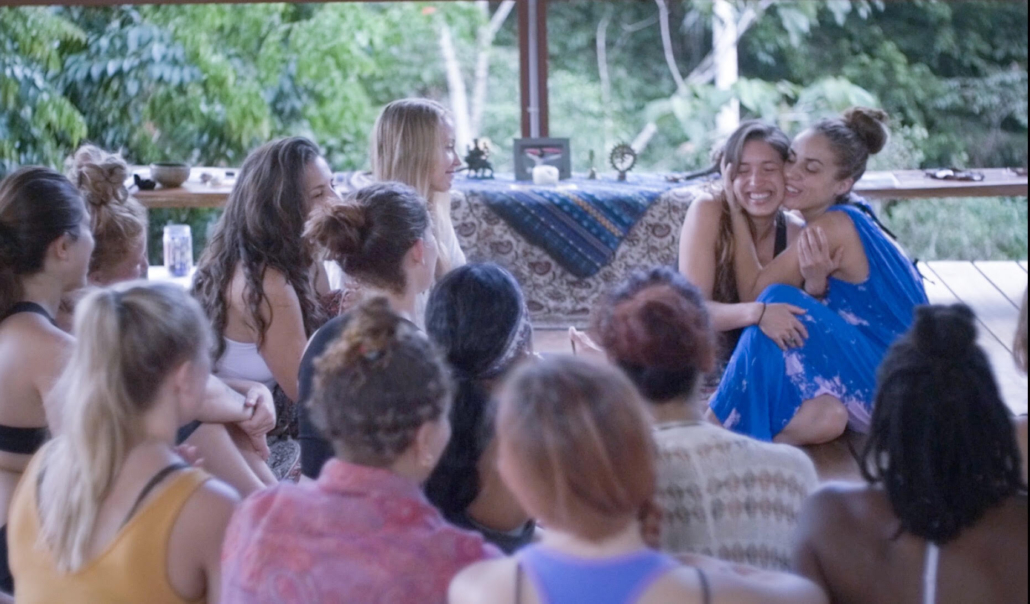 When did you start Passion Yoga School and how did it come about? Can you share some of the highs and lows of creating and operating a yoga school?
The school started in 2014, and I began the logistics of running the business shortly before I moved back to the small Caribbean town I call home in Costa Rica. I wanted to offer phenomenal education, and I wanted the quality and style of what we were offering to dance to a radically different drum. I wanted authenticity, shared intimacy, tears, jungle mud, sexual liberation education, conscious business growth mastermind, trauma sensitive discussion, and to start a MOVEMENT of passionate soulworkers – rather than just crank out more physical practice focused teachers more concerned with the brand on their back than the soul in their teachings (sorry not sorry). I wanted to offer pristine education on the bio-mechanics of the physical body – but I wanted my students to leave with a profound understanding that this is just the FIRST STEP, and that our job as teachers is to work with the body as a vessel for profound emotional, mental, and spiritual healing.
This was the vision, and we started at super small platforms where people would provide their own room and board in the town. And in 2017, we FINALLY manifested our own Experimental Yogic Living Center deep in the jungle. Permaculture baby. Dry toilets, beautiful recycled container housing – and all the jungle we need to chant, scream, cry, dance, sweat and do our primal work without complaints from the neighbors.
It's NOT always easy. And sometimes the work that we do is misunderstood, and sometimes that is difficult to handle as a sensitive leader who carries so much. We talk sex, money, race, privilege, respect for the lineage, working with broken hearts, and there is a lot of CHARGE around all of these topics. Sometimes, I am the target of people's frustration with the way things are in the world, and I am always always being invited to step up and do what I do better. Sometimes, it's exhausting. And I am committed (radically) to the process of receiving feedback, doing the work I need to do to put my ego aside – and sort through my own inner truth system to see how, when and if I need to change the route of this ship based on others (sometimes very mean) invitations for growth. You can learn more about Passion Yoga School here.
What wisdom do you have to share with yoga teachers who want to start teaching Yoga Teacher Trainings?
Have accountability. Whatever it is that you are doing – you can do it with more awareness. You can create a more loving container. We all have blind spots to the triggers of our students, and it is our responsibility to dig deeper and deeper into what it means to truly hold SACRED, SAFE, INCLUSIVE space. Commit to studentship, even as you sit at the front of the room. Know that every student will be a different medicine FOR you, and will perhaps need a different medicine FROM you. Honor your boundaries, lead by example. HONOR YOUR LINEAGE, and surround yourself by other colleagues who will quickly call you on your bull shit when you aren't showing up the way you need to be.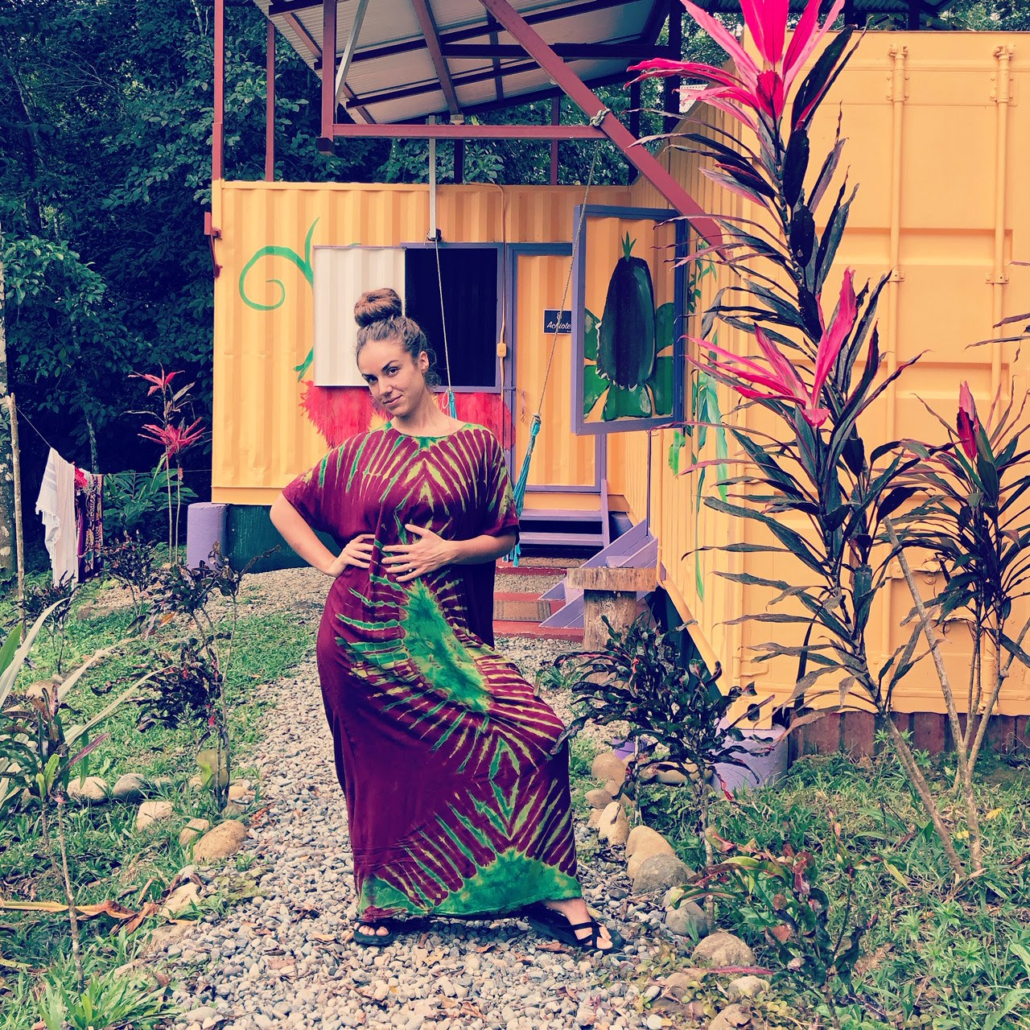 What is Soul Work and why is it important?
SoulWork is the journey from inner inquiry to purpose clarity. It is about excavating the deep and complicated layers of ancestral patterning, the trauma from this life and others, and committing to constantly renewing our connection to Earth, God, the Great Spirit (whatever you want to call it). Without a commitment to diving into the shadow, our limiting patterns of mind / behavior, or taking RADICAL responsibility for our inner condition – we remain puppets on a string. We go into default mode and continue to perpetuate the agenda of those outside of us. The revolution starts within. When we are connected to our own power and have a community of others who reflect that back to us – that's when the purpose work TRULY starts. Then, we can get clear on how we are meant to live our lives, and do it with integrity, clarity, courage, and purpose.
We've collaborated with Yoga Journal on our new project – SoulWork. And we are coming to the United States this Fall 2019! We are hosting Trauma Sensitive Facilitator Skills Trainings across 4 cities (DC, Chicago, Denver + LA). These are 4 day intensives where we educate soul seekers on how to facilitate transformation with integrity + how to grow their conscious businesses with our SoulWork model + leading SoulWork circles. You can learn more about that here.
You can also subscribe to our SoulWork podcast here – to start learning a TON more about everything I am sharing here.
In what ways do you see the global yoga community evolving over the next 10 years?
We want to be a big part of shaping this direction. What I see trending, and what I intend to continue to advocate for – is the global yoga community being a POWERFUL vehicle for profound social change. Yoga teachers who are properly educated in the true power of the practice to transform people's lives – hold an incredible platform, voice, and impact in their local communities. If this leadership is developed and their voices are amplified (and this is what we specialize in supporting through our professional development intensives) – I believe that we will continue to see the work come off of the mat and organize more into a socio-political movement. Diversity, accessibility, inclusivity. Bringing health of body, discipline of mind, and freedom of spirit tools and practices to the MASSES – not just the upper-middle class white woman. It's time to TRULY take the teachings mainstream, and the time is now.
What qualities do you believe make an extraordinary yoga teacher?
A commitment to constantly fine tuning and expanding your own awareness. What's that mean? YOU ARE WILLING TO CALL YOURSELF ON YOUR SHIT. You become more and more committed to living your life in alignment with your own values. How you shop, how you build your business, how you care for the Earth. It becomes about walking the talk – truly living your practice. Being nice to waiters. Giving back in your communities. Being an advocate for the things that are important to you.
I always tell my students – I could give a damn how you teach a down dog (even though you'll leave our programs having that DOWN by like day 2). What is important to me is how students FEEL being in your class. Do they feel WELCOME? Do they feel SEEN? Do you create an environment where people can come and GRACE can do her work in allowing healing to unfold. Get out of your own way – hold space like a boss – and invite in a deep deep journey inside for your students.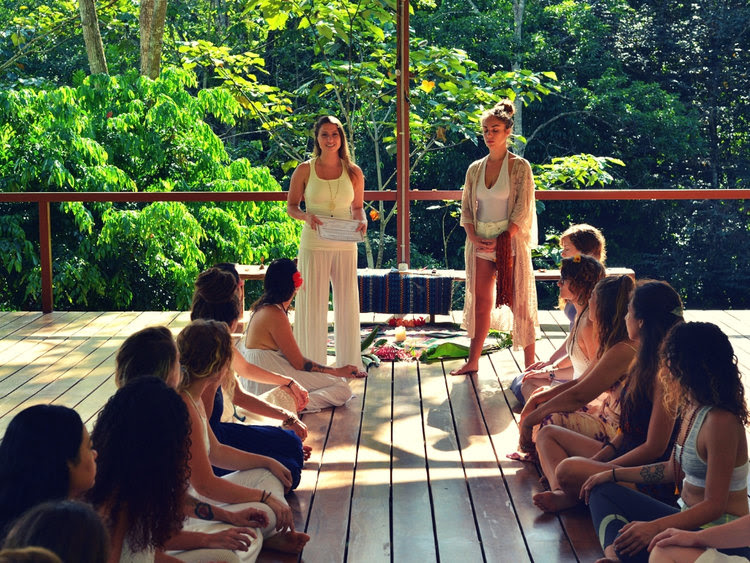 You are also involved with several other projects including Selva Fitness and Shakti Seva. Tell us more…
Selva Fitness is my fitness company where we offer online education + global fitness retreats. I love to go deep deep deep, and I also found myself taking my life a little too seriously, so I wanted to start a company focused on FUN. That's what Selva Fitness is about. Fitness, fun, and feeling sexy, strong + confident in your body. You can check out Selva Fitness here.
Shakti Seva is our non-profit extension. We started a community center for the indigenous community (upon their request after submitting a proposal) near our home here in Costa Rica. We host volunteers (mostly Costa Ricans) who dedicate 3 months to live in the tiny (tiny tiny) village and work with the community children. We also have built a classroom for my teacher's school in India, are advocates for the work our partners are doing to support women transitioning out of human trafficking in Kolkata, and we are currently re-organizing with the help of Yoga Journal to give back to local urban organizations making yoga more accessible to a diverse audience.
How do you balance all of your work and projects with your own personal well being?
Fitness. I train like a freakin' athlete, (pretty much) every day. And I eat well. And I have incredible relationships. And regular orgasms. And I freaking LOVE what I do. Work is work – but it's also my hobby, my purpose, my passion, my baby. It's not easy. I'm not always good at the life / work balance thing. But, I'm getting better at getting pickier about what gets my focus + energy every single day, and maybe someday I'll be less crazy. (I kind of doubt it.)
What are you most curious about right now?
I'm curious if I'll get to hold YOU (yes you – the one reading this right now) close to my heart one day. I share my story because I want to connect with you. I want to hear YOUR story, learn your fears, your desires. I want to know where you hurt, why you hurt. I want to grow with you, learn from you. I want to see if there are ways that my life experience can add more depth to your life, too. Come see me in the world? Please?
You can see my schedule of events here.
Follow Adi on Instagram – @adi_shakti_rising
Adi is a teacher's teacher, philosopher + serial entrepreneur whose work and life is based out of an experimental yogic living
permaculture center on the Caribbean Coast of Costa Rica. She has trained hundreds of yoga teachers in the 200 hr, 300 hr, Lifestyle Social Entrepreneurship, Pre-Natal and Trauma Informed professional focus areas through her company, Passion Yoga School. She has also led international programs across the globe – including to Thailand, Cambodia, India, Guatemala, Costa Rica, and Ecuador. Adi is the founder of SoulWork and producer of SoulWork: the Film – focusing on the journey from deep inner inquiry to clarity around social purpose and responsibility. She is also the Executive Director of Shakti Seva Inc, a 501c3 organization focusing on uplifting the indigenous community near her home among other global projects.
Tags:
leadership
,
Passion Yoga School
,
Soul Work
,
yoga business
,
yoga entrepreneurship
,
yoga evolution
,
yoga teachers
---

Yoga Trade