It seems as though more and more people these days want to get rid of all their "stuff", pack a bag and travel the world. Many people are already doing this; creating a life for themselves thru travel while inspiring along the way. As travel tourism becomes more popular we must remember to do so lightly and to respect nature in every possible way. Antonio Jaimez Vega and Jennifer Caravella are perfect examples of people who are following their dreams and living life as earth loving sustainable travelers. Their new project, "Green Goat Guides", is lighting up the pathway for others. Read on to learn more about rewarding and sustainable holistic adventures.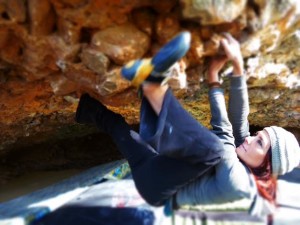 Green Goat Guides is a grassroots project of climbing and adventure travel guidebooks founded by two wanderlust rock climbers who believe in creating a more beautiful world. The Green Goat duo are using their creatively designed guidebooks as a platform to help raise awareness and educate people about sustainable living practices, holistic wellness, and ecotourism.
Live Free. Travel Lightly. Respect Nature.
These guidebooks are a hippie gypsy dream come true. Adventure nomads, climbers and earth stewards will find all of the information one would normally find in a guidebook as
well a goldmine of resources such a list of eco-friendly businesses, where to find organic food and local farmers markets, how to support the local economy, volunteer and work-trade opportunities, animal rescue centers and shelters, edible plants and medicinal herbs you can forage, recipes to keep you well, where to get a great massage or take a yoga class, vegetarian/vegan restaurants, adventure activities, holistic health practitioners and more.
The Green Goat duo has just launched an Indiegogo fundraiser for their first book, 'The Green Goat Guide to Portugal'. With your support, you can help manifest the Green Goat vision of creating an international series of holistic adventure guides that inspire, educate and open the doors to a more sustainable world for future generations of all life on earth. Check out the campaign HERE.
www.greengoatguides.com
www.facebook.com/greengoatguides
Tags:
ecotourism
,
Green Goat Guides
,
guidebooks
,
holistic
,
Portugal
,
rock climbing
,
sustainability
,
travel
,
yoga
---
Yoga Trade