Wellness is all the rage these days and what better way to keep up with the trends than by slamming homemade wellness shots??? Heck yeah!!! In lieu of the hard stuff, swap out your trusty tequila for this majestic moonshine. Like tequila, this too will give you that warm and fuzzy feeling inside without the hangover or drama. This drama-free delight is packed with everything you need to conquer your day and the world, one shot at a time.
Here is what you are gonna need to feel fabulous:
Wellness Shots: Liquid Gold
Yields approx. 4 cups.
Will keep in fridge for 3 or 4 days but you will drink it all before that I promise.
-A pound of organic turmeric
-A pound of organic ginger
-Enough organic limes/lemons to make a cups worth
-3 organic oranges
-Black pepper
Wash and peel the turmeric and ginger.
Dish gloves might help combat dyed orange hands from the turmeric and ginger burn:)
Pass the ginger and turmeric through a juicer. Don't have a juicer? Buy THIS ONE.
Masticating juicers are better for juice extraction than the more popular centrifugal models, but if all you have is a centrifugal one, then use that.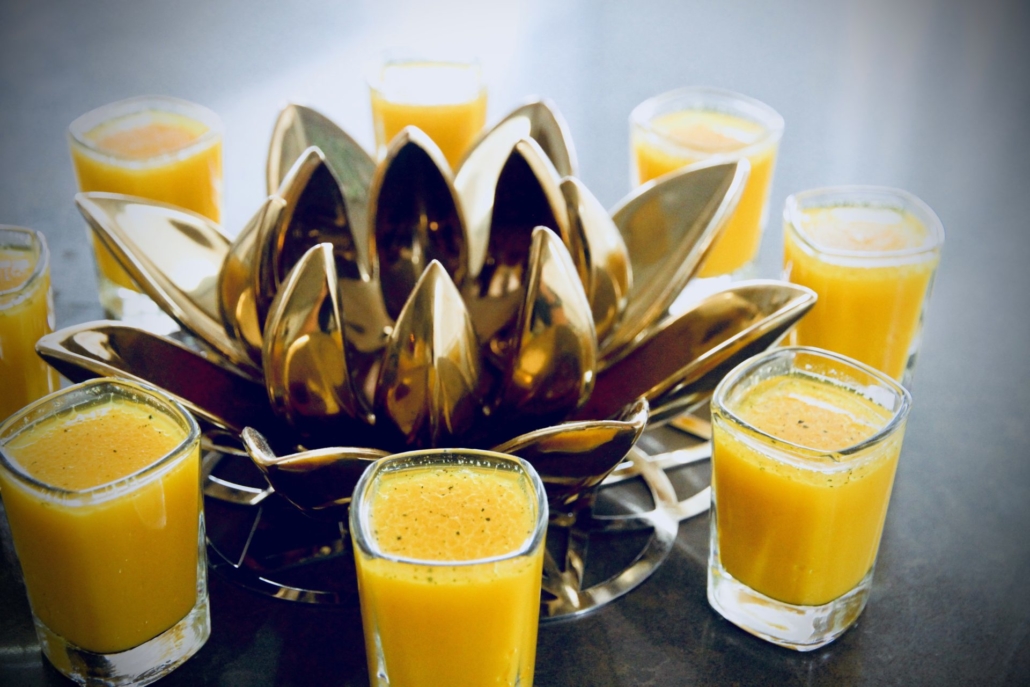 The goal is to extract a cup of juice each from the turmeric and ginger. So keep juicing until you get the desired amount.
Next squeeze the citrus. I hand squeeze myself but if you know a better way, then go for it! Keep squeezing until you get a cup of orange juice and a cup of lime/lemon juice.
Mix It all together with a 1/4 tsp of fresh black pepper and pour it into a quart sized bottle. Line up shot glasses and pass them around the table after every meal with your friends. CELEBRATE your COMMITMENT to WELLNESS!
***For maximum absorption, the shots are best served by adding a drop of cold-pressed liquid coconut oil.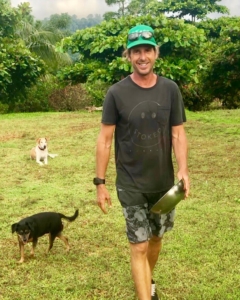 Constantly curious and always exploring, Alex Lanau has been the head chef at Pavones Yoga Center, spreading the gospel of nutrient dense foods all day, everyday. Creating simple and inventive plant based meals as a reminder that cooking is not something to be intimidated by. With his practical approach and attention to detail, his edible art has converted countless carnivores to the dark side of the leafy greens. When he is not cooking for hungry yogis in various parts of the world, he is painting murals, eye gazing the sun and sea, and hanging out with his four legged furry son.
Join Alex at the Buena Vibra gathering March 14-21, 2020 at the Yoga Farm, Costa Rica!
Tags:
ginger
,
healthy recipes
,
liquid gold
,
living yoga
,
turmeric
,
wellness
,
wellness shots
---

Yoga Trade