As a student and teacher of yoga, I am consistently  called to continuing education. This January, I completed a Permaculture Design Course at Punta Mona: A Center for Regenerative Design and Botanical Studies. It is situated in a unique and remote location where the rainforest meets the Caribbean sea in Costa Rica. The property has one of the largest collections of useful plants in the country and is a beautiful place to deeply connect with nature. Besides the center and facilitators being top quality, there are also these draws: daily yoga classes, the ocean front location, and the fact it's called "The land of freedom!"
What is Permaculture?
"Permaculture is the art of designing beneficial relationships."  -Starhawk
"Permaculture is a system of agricultural and social design principles centered around simulating or directly utilizing the patterns and features observed in natural ecosystems."   -Wikipedia
We can create and nurture beneficial relationships many places in our lives; in our gardens, our home design, our community, our businesses, on our yoga mats, etc. Permaculture can be applied to all aspects of our lives and society. It teaches us to observe patterns so we can design our lives with a holistic mind set and return back to the basics and live simply.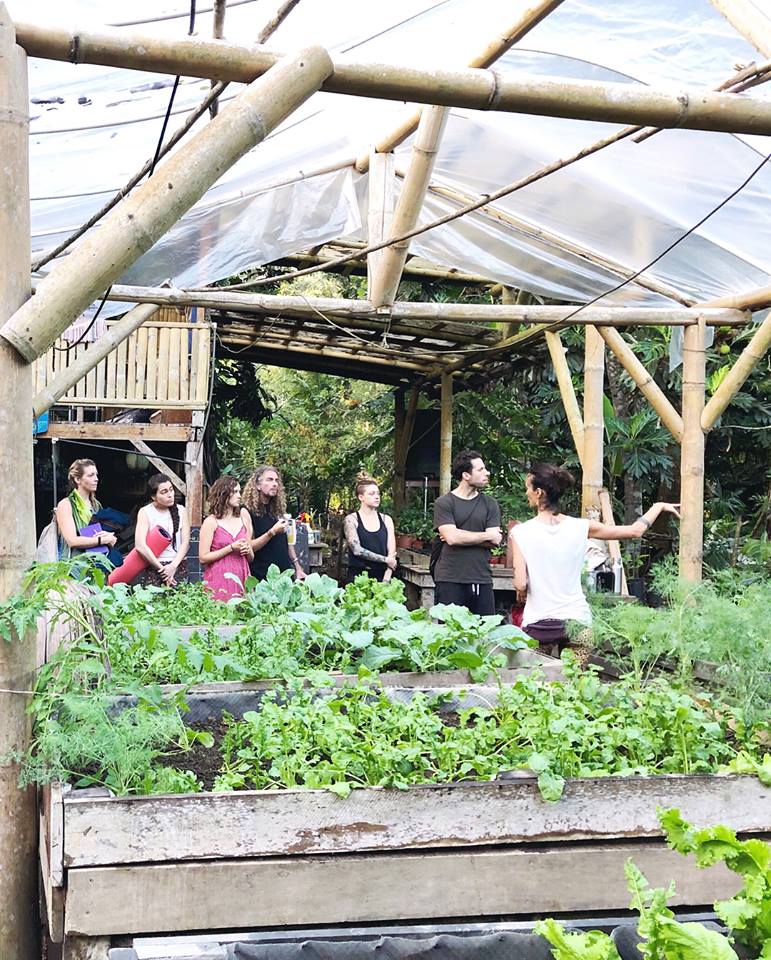 Permaculture helps us gain practical life tools to see the land as a canvas for opportunity and to see the Earth with fresh eyes. Practicing this philosophy is a great step in an important life long journey to see the world in a new way.
Permaculture Ethics:
Earth Care: Cultivating a deep respect for nature.
People Care: Self care for ourselves and others.
Future Care: Living with the intention to create a positive legacy.
Fair Share: Letting go of the competitive mind set and thinking about 'co-opertition'.
The basic curriculum in the course includes class topics such as; ethics, principles, design, soil health, water strategies, plants, energy, earth works, and social systems.
How Permaculture Compliments a Yoga Practice:
-Ignites progressive thinking and regenerative design.
-Empowers leadership and positive action.
-Encourages creative problem solving. "The problem is the solution."
-Inspires a return to the basics. Simple living.
-Builds resiliency practices.
Participating in a Permaculture Design Course creates space for amazing potential to birth new projects and collaborations. It is a wonderful place to build lifelong friendships that have optimisitc solution based perspectives.
Grow. Expand. Take Action.
Create your guild!
Deepen your practice as a student and a teacher by blending Permacutlure Design into your life on and off the mat.
Visit this educational paradise!
Punta Mona:
FB: puntamonacenter
IG: @puntamona
Erica Hartnick
 grew up in the Sierra Nevada foothills of California, and enjoys all things wild and free. She teaches nature inspired yoga and leads mindful adventures in California and Costa Rica. She gets excited about; LEARNING, intense weather, glassy ocean peaks, pillows of fresh powder snow, crystal clear water, positive people, cultural travel, thriving vegetable gardens, fresh mint chip ice cream, nature's glory, LIVING YOGA, and connecting with others. She is passionate about the collaboration with friends that led to the creation of Yoga Trade, and is devoted to connecting the yoga community with infinite opportunities!
Tags:
continuing education
,
Costa Rica
,
expand
,
living yoga
,
PDC
,
permaculture
,
Permaculture Design Course
,
Punta Mona
,
Regenerative Design
,
teach yoga
,
yoga
,
yoga teachers
---

Yoga Trade