There is definitely a positive shift happening on this planet. We are seeing more and more people and businesses beginning to live and act with a deep awareness for our Mother Earth. Here in this talking story, we are fortunate enough to catch up with Tom Hardless, the Founder of the uplifting brand, iamVibes. iamVibes creates amazing and empowering yoga wear, promotes a healthy and conscious lifestyle & community, and inspires people to become the best versions of themselves. Thanks for inspiring Tom! 
Tell us about the vision at iamVibes…
The vision at iamVibes is to project a creative frequency that inspires the Protection & Alignment of one's Mind, Heart, Body and Spirit, in the hope that our followers and customers can be uplifted to create and inspire others. Further more, my sacred intention behind all I create is to uplift and bring light and healing to the female pain body.
How does your clothing embody "living yoga"?
To me, embodying yoga is about taking the blocks, struggles and strengths from your practice and seeing how they are mirrored in your every day life.  iamVibes serves as a symbolic reminder to remain present in your Yoga, day to day. Our Hamsa symbol we manifested holds such a powerful energy and aesthetic, we hope when it is worn or gazed upon it is like a remembering or affirmation to bring you back into a sacred state of being in all you do.
What do you do to help the planet/how can we all live a little bit more sustainable?
As a small brand it is always hard to be sustainable when starting out due to costs and margins but luckily within the realm of iamVibes we use Organic Cotton, Tencel &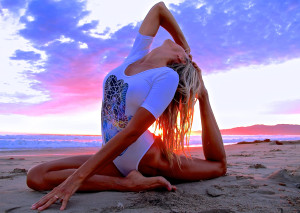 Bamboo based fabrics on all the basics which are produced in Fair wear trade factories. To play my part in the healing of the female energy on the planet I also give £3 of every online purchase to
EQUALITY NOW
who are actively enhancing the rights for females internationally .
Personally, I am more sustainable within myself by adopting a fully plant based diet. You will be blown away by how much pollution, water waste and deforestation is coursed by the agriculture of animals. As a note, livestock and their byproducts account for at least 32,000 million tons of carbon dioxide (CO2) per year, or 51% of all worldwide greenhouse gas emissions. Once I looked into this information it really made me realize driving an eco friendly car or wearing sustainable products was only a small part of the puzzle. To really make change we must adapt what we consume in a more conscious and sacred way.
How do you motivate positive change?
I motivate positive change through all my creative outlets and being vulnerable with my
thoughts, feelings, emotions and perspective on life in all I do.
Within iamVibes, I make sure it is a hub of inspiration with the
OUR SOCIETY PAGE
as well as being as transparent as possible with my intentions. With the physical clothing, each piece I create acts as a "robe" of positivity you put on to shine brightly in the world.
To support this motivation further I also create music through
IAMVIBES MUSIC
, these are my physical vibrations I am putting out into the world which hope to open up hearts or simply help ones mind transcend to another place for just a moment.
Recently I have been diving into the world of Art and bringing canvas to life with my energy. Soon I hope I will be able to share this art and send it out to those who find inspiration, comfort and love within the pieces.
As a creative who creates only with light I believe it is my duty to share all I do from a humble place to inspire positive change.  IAMVIBES 🙂 & SO ARE YOU
Who or what inspires you?
Everyone always says LIFE is inspiring and I believe that to be a given but My inspiration is found inside life. Not the physical life we experience day to day but the FORCE behind life, the energy that drives it and manifests LIFE into being. The ripples of light and darkness that have be traveling before this life I am experiencing today. The visions, the thoughts and feelings I experience when diving into my self, and being open to seeing others really inspires me to be a sword of light amongst the choppy waters of life.
[av_hr class='default' height='50' shadow='no-shadow' position='center' custom_border='av-border-thin' custom_width='50px' custom_border_color=" custom_margin_top='30px' custom_margin_bottom='30px' icon_select='yes' custom_icon_color=" icon='ue808′ font='entypo-fontello' av_uid='av-qbfi5p']
Tom Hardless is the Founder of iamVibes. The purpose of iamVibes is to be a beneficial presence on the planet. The greatest contribution is the message iamVibes delivers, which uplifts the hearts and minds of those touched by the brand. By promoting a healthy conscious lifestyle, as a fashionable pop-culture trend, iamVibes inspires society to strive towards becoming the best version of themselves. The symbol came first in a meditation and healing session. The business came later when Tom chose to use clothing as the medium to communicate his purpose. Every thread of IAM VIBES is infused with the intention to PROTECT, ALIGN, CREATE.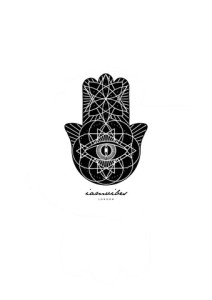 iamVibes is offering the Yoga Trade community a 15% Discount code – WEAREVIBES
Tags:
art
,
Equality Now
,
iamVibes
,
spirit
,
yoga clothing
,
yoga pants
---
Yoga Trade