Before arriving in Kampot, Cambodia I knew what I was signing up for, but when it came down to it, the day before my first class, I was petrified. Banteay Srey expects their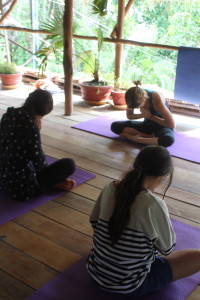 yoga teachers to lead one or two classes per day with a short morning class for the girls. I know how to do yoga and have been doing so for years, but teaching in a random city, halfway around the world presented a new form of hesitation. Luckily though this women's spa, in a chilled out town in Cambodia is the perfect place for a teacher to dip her toes in the water.
The first class consisted of 10 Khmer girls, most of whom have little to no interest in yoga, it was challenging but also fun, in a weird sort of way. In the first real class I managed to fill the 90 minutes with breathing, vinyasas, downward dogs, planks and even some fun ab work. No one stormed out of class, injured themselves or demanded their money back, in fact a few students returned later in the week! It seemed that I was doing something right.
Practicing on your own is a lot different than leading a full class, incase you didn't realize this on your own. Vocalizing every move you make "inhale reach up, exhale forward fold, inhale flat back…" tends to become a little repetitive and almost seem unnecessary until you realize your students need it, in fact that's why they came to class. As students left the class sweating with smiles on their faces and departing "Thank you" I realized I was doing it, I was teaching yoga! Sure there were mornings I woke up and hoped no students would show up for class, but by the end of it I was happy they had. Not only did it encourage me to complete my own daily practice, but the appreciation the students showed at the end of class left me glowing (nothing like a little ego boost to start your day).
It's interesting how quickly I came to relate to so many of the stories or anecdotes I had read from some of my favorite yoga teachers over the years. I remember a day when I
just woke up on the wrong side of the bed and quickly realized this was not something I could project onto my students. It was great to finally be on the other side of the yoga mat, sharing what I love with people from around the world. I definitely made the right choice of where to start my teaching journey, there couldn't' be a more welcoming way to begin than having laid back, seasoned travelers as your first students. Knowing that most of the students are in transit and just wanting to 'drop – in' there was much less stress on the 'marketing or promotions' side of class, allowing me to focus purely on the experience.
Banteay Srey provides an amazing setting for teachers both new and old, it's a place to find serenity. Mornings are slow, people are full of smiles and there's something to share or learn around every corner. It's important to note that while volunteering as a yoga teacher your responsibilities don't end here. It's expected that you stick around for the work day, helping where you can. For me this came in the form of English lessons for the girls, for others it may be marketing, financial/business guidance, or further beautician training, the important thing is to make yourself useful.
The spa is always in transition with teachers coming and going, and new visitors stopping by every day; yet it's also a place where you can settle down and take some time to realize your true self. Start the morning with a few sun salutations on the dock, a chat with one of the trainees, or a run down the dusty dirt road isn't a bad idea either. No matter how you start your days in this city they're sure to end on a high note with beautiful sunsets, delicious dinners and star filled skies.
Stephanie is a 26 year old midwest native with a passion for teaching, yoga, travel and food. She has spent the last few years combining them all, taking her from a classroom in South Korea to yoga studios in Thailand, eager to see what's next.
http://www.yogifootprints.com/
Instagram: yogifootprints
Tags:
Banteay Srey
,
students
,
teacher
,
yoga
---
Yoga Trade