[av_hr class='invisible' height='50' shadow='no-shadow' position='center' custom_border='av-border-thin' custom_width='50px' custom_border_color=" custom_margin_top='30px' custom_margin_bottom='30px' icon_select='yes' custom_icon_color=" icon='ue808′ font='entypo-fontello' av_uid='av-185xqvw']
ALL REVOLUTIONS BEGIN AS EVOLUTIONS.
I have worked for years trying to meet the mainstream examples of an adept yogi. I stretched my body beyond it's limits, I filled my mind with teachings and directions. I approached my mat like a surgeon, ready to cut and repair my practice into perfection.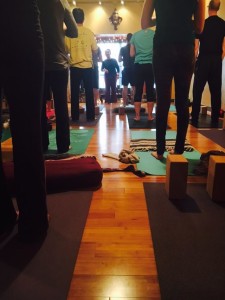 Until one day I stopped practicing and started listening, and it was revolutionary. Though not quite in my 40th year, I feel my body resisting the rigid structure of effort and achievement that I'd been striving to obtain for two decades. I witness that when I threw caution to the wind and ALLOW my body to explore sensation, movement, and breath, the experience of Yoga, rather than the practice of it, is the result. I am mystified and terrified, but also excited. Even though I've been teaching for years, it feels daunting to offer this new approach to my students. For now, my teaching is evolving into a dialogue of trust and discovery rather than a demand to perpetuate the status quo.
Maybe this makes me a renegade or some sort of nuisance. It definitely makes my classes an acquired taste. The mainstream idea that yoga is about bikini clad arm balances is not the Yoga I want to be teaching. Though the asana I teach is full of opportunities to be stronger, it is not a fast-paced, fitness driven kind of strength. Instead, we explore an innate strength that arises from within; an unshakeable trust in yourself. That's what I want to be teaching: THE FULL POSSIBILITY OF WHAT YOGA CAN BE. I continue to stand on a strong foundation of Millennia old teachings, and trust that the forms of asanas shape and move our energy in ways that enhance our vitality. And I will continue to study with amazing teachers. Am I infalible? Hell NO! I have blind spots. I have places within me that I have hidden or locked away that need a teacher or a teaching to crack open. But I no longer want to be solely dependent on the authority of others to guide my experience.
In this revolution, we will know that we don't have to master a picture-perfect handstand in order to be a yogi. We don't have to twist ourselves into complex shapes or harden our core to be successful. We don't have to disregard the messages of safety that come from
our brains and our cells. When our Yoga becomes our revolution it evolves to embody the unique essence of beauty and perfection that exists inside of each of us.
The most challenging part of evolution is trust. We can't get behind a revolution without it. How do we quiet the voices of doubt and fear and criticism (both inside and out) that say that this approach isn't yoga? How do we allow the experience of yoga to rise up from within, rather than feeling like it is perpetually something we have create on the outside? WHAT WOULD OUR YOGA LOOK LIKE IF WE REALLY TRUSTED OURSELVES? What if we were the ultimate authority of what was best for us? Here's where the real revolution begins.
We are returning to our innate guidance. Regardless of opinion, we are pursuing the possibility that Yoga is something that is sourced from inside of us and not something to achieve or attain. As we mature our understanding, our practice transforms, and if we are lucky, we get to share that with others.
THIS IS THE NEW REVOLUTION OF YOGA, AND WE ARE ON THE FRONT LINES. ARE YOU READY TO JOIN US?
[av_hr class='invisible' height='50' shadow='no-shadow' position='center' custom_border='av-border-thin' custom_width='50px' custom_border_color=" custom_margin_top='30px' custom_margin_bottom='30px' icon_select='yes' custom_icon_color=" icon='ue808′ font='entypo-fontello' av_uid='av-w4i6ho']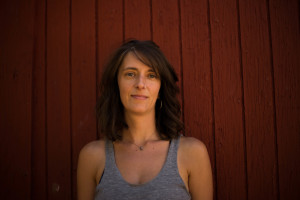 Kelly Golden has studied and practiced for over 20 years in the lineage of Sri Vidya Tantra. She is the Director of Vira Bhava Yoga School, leading 200/300 hour teacher trainings in Northern California. Connect and find out more info about the trainings HERE
Tags:
nevada city
,
para yoga
,
revolution
,
tantra
,
yoga
,
yoga inspiration
,
yoga teacher
,
yoga teacher training
,
YTT
---

Yoga Trade