Ever dream about traveling the world to pursue a never ending exploration of surf and yoga? The story of Yawen Huang is a wonderful example of how you CAN make your dreams your reality. In this article Yawen shares her experiences and talks about her current Yoga Trade work exchange at Matanivusi Resort in Fiji. Be inspired and if you haven't already, take the first step to living your dreams!
"No matter where you live and how old you are, you can decide to change your life."
Traveling around the world, sharing my yoga practice abroad, and surfing and chasing the epic waves in remote islands are my living dreams. Currently, I am living the life I love and loving the life I live on the beautiful island of Fiji.
I am passionate about the ocean, nature, yoga, and surf. Surfing automatically combines all my passions together and guides me to where I need to be. Yoga practice leads me to
explore the power of being present which allows me to listen my heart and bring me to the unknown journey. It is true that the unknown could be scary but you may fall on something you don't want so you might as well to do something you love.
Before I started the world journey, I worked in a junior high school in Taiwan. Asking students what their dreams were was always my first question; however, it also reminded me what my dream was. "Explore different islands in the world" has been calling me for years so I responded to it one year ago. I quit my job in Taiwan and bought a one-way ticket to Indonesia to chase my romantic surfing dream. After a few months surfing and traveling, I took an amazing yoga teacher training course in Bali which opened up the door even more for my travels.
Sharing my passions of surfing and yoga with the world will be continued. Teaching yoga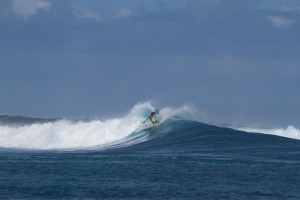 in Fiji has been the most amazing experience for me. Connecting people by sharing my yoga practice with nature, under the big trees, SUP yoga in the ocean or simply breath in the beautiful yoga center at Matanivusi Surf Resort in Fiji. Guiding people to listen to their heart, focus on the flexibility of the mind, and the open heartedness of the spirit. We will all have to find the way ourselves but yoga practice will be there for us to help.
Things are going well and I am truly grateful for what I have, but I am also taking the steps I believe I need to fulfill my dreams and go for the deeper meaning of the flow. I want to keep teaching yoga and surfing everyday, continue to grow my inner wisdom, dig deep to uncover the truth, and motivate my lifestyle to feel my soul. Changing my careers has definitely sped up my personal growth so much and I appreciate every single moment since walking on the path of yoga as a way of life.
Knowing there is more than you think beyond the mat and Asana starts an opening to
follow your heart. Through regular yoga practice, the deeper connection of self-awareness automatically happens. It's like putting a seed in the soil; it grows and gets nourished with daily practice and continuous perseverance. Pay attention to the needs of your body, you will find the inner balance, which is how you move through and view life.
If you are looking for a change, you must be the change you wish to see the world, and take responsibility to make that change. I have discovered it through yoga practice and I hope the path of yoga touches more beyond the body and into the full integration of mind, body and spirit.
Yawen Mavis Huang is "Made in Taiwan" and currently living her dream of travel, surf, and yoga. She is a bright light along the path. Connect with Yawen here:
FB: Yawen Huang
IG:@yawenhuang
Tags:
Fiji
,
Matanivusi Resort
,
surf
,
travel
,
yoga trade
---

Yoga Trade