We had been traveling south on the MX 1 through the Baja peninsula for about 2 weeks. Our mornings consisted of waking up with the first pink light of daybreak to poke our heads out of the RV and check the surf. Do those lines look
bigger, more consistent than yesterday? Should we get out there or rest an hour more? We would hop out of bed, do a quick clean up from last night's dinner and depending on the tide, suit up and head towards the water. Every few days I would start the day with yoga. I am lucky to have a partner who would quietly tidy up camp, and even add to its glory by building a fire-pit, creating a patio or making a caren for good luck and ambience during my practice. No matter how our day started though, eventually, we always cooked a big, delicious breakfast.
Until our last day in Scorpion Bay we almost exclusively made breakfast tacos. We had fresh hecho por mano corn tortillas, eggs with bright golden yolks and a host of cheese and fresh veg in the cooler that made each taco a treat. But while camping on that glorious cliff overlooking the Bay we met a lovely couple who made a different breakfast every morning and they swore it was the highlight of their day. They showed us the way of the Egg and Banana pancake, and we took the recipe and made it our own with a few choice spices and toppings.
This recipe is great for travel and sport because the ingredients are basic, clean-up is easy and you can get creative with the toppings, changing it up based on whatever you have at hand.
Next Wave Pancakes (Gluten, dairy + grain free)
2 bananas, mashed until smooth
3 eggs
2tsp cinnamon (or more to taste)
½ tsp salt
pinch of cayenne
Coconut oil (for pan)
Toppings:
Pitted dates
Oranges, pith removed
Honey
Flax seeds
Makes 2 servings
Method:
1. Add eggs one at a time to banana mash, and mix well after each addition

2. Add Cinnamon, cayenne and salt
3. Add coconut oil to small sauce pan over medium heat and swirl around to coat. Pour half batter into pan and let cook for about 5 or so minutes, covering. Check on pancake and gently flip when little bubbles appear almost all the way to center
4. Brown on second side and gently slide from pan to plate. Cover.
5. Repeat with second half of batter and you have 2 servings!
6. Place all possible toppings on the breakfast table and you and your friend can go to town finding the best combination for you! Other suggestions include peanut butter, jam, Nutella, squeeze of lime, sliced bananas or apples, or any other fruit.
After our experience in Scorpion Bay, this dish was moved to the top of the rotation and we ate at a few times a week. Delicious and full of protein, it is a great way to start the day!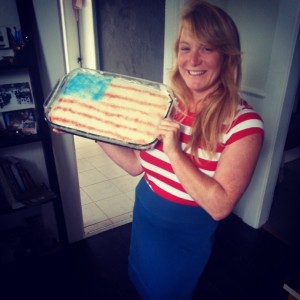 Jessie Flo is an avid surfer, traveler, yogi and chef. Her travels have taken her to the beaches of Bali, Nicaragua and most recently down the Baja Peninsula in a 1987 Toyota Dolphin. She is based in San Francisco, CA where she runs Subtle Peach Foods (subtlepeach.com).
Tags:
Baja
,
dairy-free
,
gluten free
,
pancakes
,
surf
---
Yoga Trade