Eco-travel is an excellent way to travel with a purpose. We should all think about ways to make our travel sustainable, mindfully connected with local culture, and present. Here we catch up with Los Cardones Eco Lodge co-owner, Anne-Laure Sitton. In 2001, Anne and her husband followed their dreams of adventure and searched for locations between Mexico and Costa Rica. They found it in Nicaragua and Los Cardones was born. Not only do they offer amazing surf/yoga/eco holidays, they give back to the local community in many ways, and offer visitors enriching experiences to get involved. Next time you travel…..Travel "ECO"!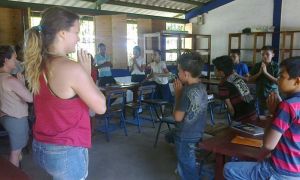 What does "Eco Resort" mean to you?
The vision for our eco lodge is to offer a place where one can feel in harmony with oneself, with others, and with the environment.
What projects are you involved with to help your local community?
We run a library in the local village, we host a weekly art workshop with the local kids, we organize health workshops with the women of the
community. We save endangered sea turtles from extinction, we raise awareness here and abroad, we hire locally, and buy locally.
Do you offer work exchange/volunteer opportunities?
We offer a yoga teacher and customer service work exchange opportunity. It is a monthly commitment to share a loving yoga practice with our guests.
What kind of yoga do you offer at Los Cardones?
We offer ashtanga and vinyasa flow yoga, with a focus on our unity with Mother Nature.
Learn more about Los Cardones here:
Tags:
eco
,
Nicaragua
,
surf
,
sustainable
,
volunteer
,
yoga
---

Yoga Trade