Voluntourism (combining volunteering with touring while on holiday) has received some bad press lately and there are lots of legitimate reasons why. For starters, many places charge exorbitant fees to volunteer and often these "fees" have little, to no, transparency as to how it's funding the project. Why pay to volunteer? Isn't that essentially paying to work? Now, I do understand that a portion of that payment goes to the local community and project, but unfortunately the bulk of the money does not. Unless you spend a lot of time researching and ensuring that your money is supporting the project directly, often times only a small percentage of the money usually goes towards the actual projects meant to support it. Most of the money ends up lining the pockets of the corrupt and greedy.
I've been blessed with many opportunities in the past that have allowed me to volunteer while also giving money to the local community, in a very legitimate, very transparent way. Since joining the Peace Corps in 2010, I have been engaging in various volunteer endeavors. From volunteering at a yoga conference in Asia to helping out dive instructors in Malaysia, all of my volunteer opportunities helped to benefit the local community without breaking the bank. If you're smart about the way in which you research, you too can travel longer, have better experiences, build better relationships and contribute in a positive way.
Currently I'm living in Costa Rica and have come across lots of volunteering opportunities. Some are as cost-effective as $10/day where others can be $450/week. Like stated earlier, I'm not looking to blow my travel budget AND work, so if you have the time and the skills, below are a few volunteer opportunities that won't cost you a penny, or at the very least won't put a big dent in your budget.
Who: Writers, Gardeners, Photographers/Videographers
Duration: Writers 3 months / Gardeners 6 months/ all else e-mail for availability
Cost: Free
Blue Osa is located in the Southern part of Costa Rica in the Osa Peninsula. The environment of Osa is lush and beautiful, the perfect blend of ocean and jungle life. In exchange for the duties above, volunteers will be provided with a comfortable place to sleep, all meals and ample free time to enjoy the ocean just meters away from the site, the beautiful pool and the wild jungle.
The duties are writing for their blog (an experienced writer), gardening (someone with botany in their background) and photography for their website and/or taking videos for their blog or other projects. Obviously all positions require that you have some experience in whatever it is you're applying for and because it is such a sweet deal, availability does fill up fast. This isn't an ideal position for someone who just "decides" they want to suddenly volunteer, instead it's for someone who has some patience and is going to take the time make a serious commitment for a few months. Once you do that, you won't regret it.
Who: Teachers of-ESL, computer skills, vocational skills to young women, cafe volunteers, web designers and writers
Duration: 6 week commitment
Cost: $250/month for home-stay accommodation
An excellent opportunity that caters to those with lots of different skills and those who want to really be immersed in a local experience. Because the volunteer will be living with a host family, this gives the person an incredible one-of-a-kind experience and the opportunity to learn or improve their Spanish.
San Gerardo is an interesting place and volunteers flock there because of its close proximity to hiking trails and the great outdoors. It's also close to the beach, which makes for a great weekend trip for those who are interested.
Who: Receptionists/Admin Assistants, Whitewater Kayak Instructor, Field work/General Labor Assistant
Duration: 6 months (they do accept shorter stays, but there is fee)
Cost: Free
Ever wanted to live in the rainforest? Now you can while also helping to benefit it. Chilamate Rainforest Eco-Retreat is a sustainable, rainforest conservation tourism project. The retreat preserves 55 acres of rainforest and runs on solar power, uses rainwater catchments, and biodegradable cleaning products.
As a volunteer you'll be given the opportunity to help out at a local level while learning a new skill and more about the incredible, natural environment that surrounds you.
Volunteers stay in a dorm with a private bathroom and are welcome to use the well-equipped kitchen. Even though there is access to the kitchen, volunteers still get delicious meals that feature local cuisine. Volunteers are asked to help with meal preparation, but this is a great way to learn about the local food and bring a few recipes back home.
Who: Anyone interested in entomology
Duration: 2 months
Cost: Free
Do you love butterflies? OK, maybe you don't LOVE butterflies but who wouldn't want to give tours of a majestic, butterfly garden set in the mountainous region of Monteverde? As a volunteer you will be trained to give 1 hour tours through the gardens, usually giving 1-4 tours a day.
Yes, this might get monotonous, but think of all the knowledge you'll acquire about butterflies, insects and arachnids. You'll gain a lot of experience working outdoors and learning about Costa Rica's biological diversity. Butterflies in Costa Rica are a pretty big deal, so why not learn about this magical little creature while living here?
Volunteers live in comfortable living quarters with a shared bathroom and have all meals (or food for meals) provided for. Even though the volunteer is expected to work 6 days a week, the work life is not hectic at all and is in fact pretty laid back. There will be other volunteers around so that the work load is shared and the volunteer doesn't feel overwhelmed. So who's ready to get mystified in Monteverde?
Who: Those interested in turtles
Duration: no minimum
Cost: $27/day
Parismina beach is a popular place where Leatherback, Green and Hawksbill turtles come to shore to hatch their eggs. Because of this, it is also a common practice for poachers to come and exploit the turtles by stealing the turtles and their eggs to sell on the black market. For this reason, volunteers are needed to help save these endangered turtles from that happening. Since the start of the project over 38% of the turtles have been saved, according to their website.
Volunteers will work alongside a local turtle guide and learn about these beautiful, sea creatures. The local guide will take the volunteer out on a nightly patrol and teach them how to guard nesting turtles, identify turtle tracks, count the number of eggs, record tag numbers and assist with relocating eggs. While this is done at night, daytime tasks will be to monitor hatching, cleaning the beach of debris and safeguarding the hatchlings.
The $27 includes a home-stay with meals and laundry service. However, if you wanted to procure your own accommodation, the fee to volunteer would only be $10 a day and you would pay for your accommodation and food independently. Overall, a small price to pay to help the environment and learn a lot about a species that is unfortunately endangered.
So, there you have it, my top 5 choices for volunteering in Costa Rica for little or no money. Now, you might be reading the list and thinking, "yeah, this is great if you have MONTHS of vacation time, but useless for me." I understand that many of you might be limited to only one or two weeks of travel, therefore only looking to volunteer for a couple of days or so. Obviously, this list isn't for you then. These options are obviously more for those who looking for an extended holiday. Maybe looking to volunteer for a couple of months and then travel for one or two months additionally afterwards.
If time is limited, then there are a few more resources out there. Sites such as Yoga Trade, Workaway, and Helpx are websites that put you in control of what you want. On these websites you pay a small annual fee (no more than $30) and get to review hundreds of different volunteer opportunities. Most places provide you with accommodation and meals, if you put in (no more, sometimes less than) a 5 hour workday. Opportunities vary but are not limited to: teaching, helping out at a hostel, gardening, building, fitness instructor, nanny and so much more. What's great about these opportunities is that the minimum commitment can be as little as 2 days, giving you the opportunity to still give back and still have a local experience.
There's a reason why voluntourism has become so popular. The experiences you gain are so much more profound than merely visiting a city, staying in a hotel, snapping a few shots and visiting a few must-see destinations. When you volunteer you are often stationed in a local setting which enables you to fully immerse yourself in the language, learn about new cuisine and get in touch with the local culture. These are the experiences that make travel worthwhile and help you grow as a person. You'll gain new perspectives, and bring unique insights about your holiday back with you. You'll create bonds and make memories that will last a lifetime, which has much more longevity than that souvenir you bought at the market.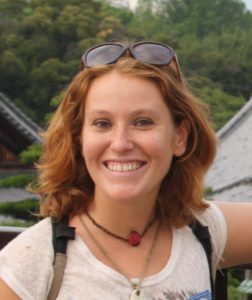 Tara DeAugustine is an elementary school teacher, presently taking a much-needed break from teaching, and in turn dabbling in and out of different job roles. Her travels have taken her all over the world, previously living in Thailand, Taiwan and Cambodia. Currently, she's a volunteer writer and yoga instructor at Blue Osa Yoga Retreat & Spa in Costa Rica. When she's not busy at work, you can find her doing what she loves, which is included but not limited to: lazing about in hammocks, eating salad, watching sunsets and reading.  
Tags:
travel
,
volunteer
---

Yoga Trade