It is incredible how many yoga retreat centers are popping up worldwide. International popular hotspots include places such as, Costa Rica, Nicaragua, and Thailand. As the yoga community continues to build retreat centers, hotels, and sustainable living farms, there is one thing that is important to remember: the local communities! As newcomers to a setting, showing respect to the local culture is a must. Building relationships with local communities as a yoga retreat center developer, provides jobs, creates family, and in turn brings memorable experiences to many people. There are lots of people who bring the magic to yoga centers; the guests, the builders, the volunteers, the owners, the yoga teachers, the staff, etc…At Yoga Trade, we believe that "keeping it local" and daily sustainable living practices, are the foundations for yoga retreat centers. Below, Yoga Trader Sarah Barnes, writes about the inspirational Blue Osa Retreat + Spa (where she is currently volunteering), and their amazing Costa Rican staff and family.
Where Ticos Run the Show
Costa Rica is more than a tropical rainforest full of beautiful wildlife. The country is steadily becoming one of the most sought after vacation destinations for yoga retreats, workshops and teacher trainings in the world. Each yoga studio in Costa Rica has something that sets it apart, but what you won't always come across are places staffed by local Ticos who know the lay of the land they are working in.
Take a journey down to the Osa Peninsula close to the Corcovado National Park and tucked in between the small town of Puerto Jimenez and Matapalo you'll encounter Blue Osa—a resort and spa bursting to the brim with Tico flavor.
If you blink you might miss the entrance to Blue Osa Yoga Retreat and Spa, with its small wooden sign. But what you won't see from the tiny entrance is the majestic structures behind it or the amount of heart that has gone into making a safe and spiritual place for visitors, employees and volunteers alike.
You'll most lightly be ushered in by Edgar, or Chuleta as he is nickname. You'll find everyone here has a nickname or two as the employees are quite playful with each other. Proceed through the gate and you'll enter the secluded world of Blue Osa, surrounded by greenery and flowers splitting into three directions.
No matter which path you take you're likely to run into Fillo, Erick, Alex or Chindin bustling about the property fixing structures, weeding the garden or building and sanding new chairs for the front relaxation area. Although they always have something to do, any one of them would gladly stop and chat or offer a warm, "Buenas días!," along with a kiss on the cheek, a customary traditions for Ticos.
As a volunteer here at Blue Osa, this is how I personally start my day. Walking from my room over to the office I pass the workshop, laundry room, generator and all my new found friends, the employees. Getting to know these individuals and learning about each one of their lives I think has been one of the best parts of my three month stint here in paradise.
THE STAFF
Like everyone around the world, the employees are here to support their families, dreams and lifestyles, which vary quite a bit, but they also genuinely enjoy working with each other; I think it is part of the "Pura Vida" lifestyle. Let me introduce to you my friends, the employees and heart of Blue Osa:
Michael Melendez, 28
Blue Osa Manager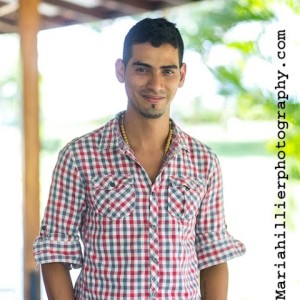 Michael, sometimes known as Puy, has been at Blue Osa for five years and is the go-to employee for anything and everything. Although his official title is manager, you can find him in the kitchen, fixing the generator, taking guests out on the ocean to kayak or hike through the forest and solving any type of situation that might arise during the work day.
Michael has lived in the Osa Peninsula his whole life. Growing up on a farm, he is very familiar with the area, the native animals and a decent botanist as well. When he isn't here running the show, Michael enjoys lifting weights, running on the beach, fishing, hiking, dancing and pretty much anything outdoors.
Michael holds a special place in my heart particularly because he is always checking in on the volunteers who live and work here. There is no such thing as a dull day when Michael is around. He makes sure that we have what we need to be comfortable and productive and you feel welcome from the day you arrive.
Jorge Peraza Fernandez, 25
Assistant Manager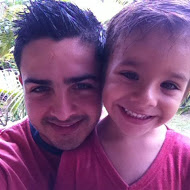 Originally from San Jose, the capital of Costa Rica, Jorge has only been in the Osa Peninsula for five years. His career with Blue Osa began a short four months ago, but you would never know as he is already well versed in how things work. His charismatic personality shines through each day with his coy smile and bright blue eyes, which have also afforded him his nickname, Ojos Bellos (beautiful eyes.)
On top of learning the ropes of quality customer service and management from Michael, Jorge can often be found working on the weather reports for the Blue Osa blog, posting pictures to our Instagram account or working on his English.
Jorge also has the most adorable two year old son who attends the Corcovado school, one of Blue Osa's community initiatives.
José Marin Vargas, 30
Head Chef
You will rarely hear José called by his real name as you'll constantly hear calls for Chepa or Chepona ringing out throughout the kitchen. As the head chef, he is in charge of not only preparing meals but also making sure that the inventory of materials is up to date and any of our visitor's special needs or allergies are incorporated into the menu each week.
José's career began seven years ago when his hands aided in creating the breath-taking structures here at Blue Osa. He shaped, sanded, and painted the massive wooden beams that frame the yoga deck and kitchen.
Anyone can tell that José enjoys what he does here at Blue Osa as he always has a huge smile on his face and is ready to help any guest, volunteer or employee at the drop of a hat. A guest wants cream for their coffee and we don't have it? The next day it will be on the bar. Mention that you're gluten-free to him? There will be a gluten-free pasta dish served just for you within hours of mentioning it.
Guest and volunteers alike will tell you José is an incredibly hard worker and most stay in contact when they leave as his smile and positive energy are inspirational.
Leonel Nena Caupos, 31
Chef
Leonel, better known as Chele, is probably the sweetest and hardest working person you'll find in Costa Rica. For starters he is an incredibly talented chef, but when he isn't cooking up a storm in the kitchen you can find him studying for this degree in hotel and restaurant management late into the night.
Another one of Chele's many talents includes jewelry making—specifically bracelets. He originally started making these beauties while he was recovering from a motorcycle accident but now he sells them here at Blue Osa and uses the profit to help pay for his school costs.
Originally from Nicaragua, Chele has been with Blue Osa for three years and a resident of the Osa for 10 years.
Rafael (Rafa) Eduardo Fanseca Almengar, 26
Chef/Personal Trainer
If Costa Rica had its own version of The Bachelor, I am pretty sure our chef and personal trainer Rafa would have no competition getting the leading role. He is dedicated to personal fitness and has quite the chiseled physique. When he's not in the kitchen you'll probably find him lifting weights or surfing.
Ironically enough, the personal trainer also makes amazing deserts and smoothies. Rafa spends a good amount of time on Pinterest looking for the perfect sweet treat for our guests, including gluten-free, vegetarian and vegan options.
A life-long resident of the Osa, Rafa has been with Blue Osa for three years.
Andy Diaz Moraga, 29
Chef
Andy's official nickname is Gordo, but in my mind he will always be bromista, or joker. You can be sure that if something goes missing, Andy has temporarily relocated it and will have the best poker face of them all when you ask where the item might be.
Besides all of his jokester tendencies, Andy is a great employee. He's been with Blue Osa for three years now, but has lived in the Osa Peninsula for roughly 15 years; before that he was born and raised in the city of Alajuela.
Make sure to ask Andy about his son as you'll never see a bigger smile on his face or more silly photos.
Olger Brenes Rodríguez, 44 (Cabezón)
Chef
Olger, pronounced Ol-hare, is another one of the busy bees in the kitchen. His career at Blue Osa began a short three years ago, but again he knows his way around the kitchen and fits in great with the rest of the staff.
A native Osa resident, Olger is a HUGE animal lover, particularly cats. He has several at his own home and gives lots of love to the four cats/kittens and two dogs that hold residence here at Blue Osa.
Ivannia Ramírez Cruz, 46 and Ñery Cerdas Ibarra, 38
Ivannia and Nery are hard workers and moms to both their families and the Blue Osa crew. Whether they are bustling around the laundry room, cleaning out cabinas (guest rooms) or mending pillows from the sofa, their useful skills are endless.
Ivannia is also known as Macha, or Blondie and Ñery is sometimes referred to as Ngaspachas. Both of these lovely ladies have worked at Blue Osa for four year and are quite the team. Although Ñery is originally from Nicaragua, like Ivannia, she has spent the majority of her life here in the Osa Peninsula.
Erick Manuel Jiménez Garbanzo, 24
Housekeeping
Light-hearted, young and energetic Erick can also be found with a smile on his face whilst working on cleaning the guest rooms, yoga deck and various other areas. He speaks very little English but that doesn't keep him from flashing a big grin your way and working through a conversation. Over the course of my stay here we have fumbled through conversations about fishing and his beautiful new baby girl.
José Rudecindo Lopez Jimenez, 36 (Chindin)
Gardening, Woodworking and Property Maintenance
Another strong silent type, Chindin arrives bright and early to work at 5 AM to begin his daily routines of property maintenance, woodworking and painting. After placing his cellphone on the employee shelf along with all the other colorful technology bricks, Chindin bids me a warm, "Hola guapo, como estas?" Observant and polite are two of the words I'd use to describe him. When I am having a rough day Chindin is always one of the first ones to know and offer a huge hug.
Chindin has always called the Osa Peninsula home and has made his career here at Blue Osa as he has spent the past seven years helping to create this sacred space.
Rufilio Nuñez Solis (Fillo), 55
Gardening, Woodworking and Property Maintenance
Fillo has been with Blue Osa for seven years. You can find him around the property doing maintenance on the lawn, watering the garden or working with his hands on various other tasks. A hard-worker, he won't always have time to stop and chat, but he'll greet you with the biggest smile and a warm hug.
Another interesting fact about Fillo is he is a nature guide and avid bird watcher. When we have groups that are early risers, he will often be their guide through a morning hike and bird watching tour, which is a wonderful way to start the day.
Geiner Rivera Venegas, 38 (Tony)
Gardening, Woodworking and Property Maintenance
I'm not exactly sure how Geiner, or Tony as we call him, got his nickname, but he is the quietest employee of them all.
Originally from Pérez Zeledón, Tony has only lived and worked in the Osa Peninsula for six months; although you'd never know that watching him interact with all the employees.
His official duties are with property maintenance like Chindin, Fillo and Alex, but true to Tico fashion, Tony will pull his weight in any other area here at the resort.
Alexander Mendez Alvarado, 45
Gardener and Project Manager
Although he has only been at Blue Osa for four years, Alex is a busy man here at the property. As a passionate environmentalist, it only makes sense that he manages our well project across the street where in the future there will be a lush garden, a water well, chickens and much more.
Alex has a way about him; he is quiet but once someone takes the time to ask questions he will open up and share his joys and concerns with you, and vice versa. Alex always reminds me that if I'm having a bad day that I can come and talk to him. This is one reason I always makes sure to give him the biggest hug and kiss in the mornings, letting him know his friendship is important to me.
Alex's passionate feelings extend into his community as well. He coaches several football teams in Puerto Jimenez ranging from small children up into teenagers and the kids come from all different areas to play. Alex feels it is important to be a big part of your community and the children's life because they are our future, we have to teach them to be engaged citizens and love their community.
Edgar Bernado Gutierrez Quesada, 56
Security
Ah Chuleta…he always finds a way to surprise you whether its lighting the path to your destination or catching him busting a move during a rare guest dance party.
Although most guests don't really meet Chuleta he is one of the security personnel here at the resort during the late afternoons and evenings. You'll be able to spot him walking around the property with a humongous flashlight keeping watch around the parameter.
Born and raised in the Osa Peninsula, specifically in Golfito, Chuleta is another Blue Osa veteran. Showing true dedication to his job over the past seven years, he rides his bike an hour each way to get to and from work.
Blue Osa Journeys
Aaron and Adam, co-owners of Blue Osa, believe in and support their staff as if they were family, because they pretty much are. When they aren't traveling the world hosting yoga retreats, scouting for new locations or looking for donors for the local school they run in Puerto Jimenez, Aaron and Adam focus on enriching their staff's knowledge and skill base.
Back in 2013 they took head chef Jose on an adventure to see and study in some of Europe's finest meccas. Over the course of a month Jose worked and learned in kitchens throughout Paris, Amsterdam, Biarritz and Montpellier. This was quite the experience for then 28 year old Jose as he had never been outside of Puerto Jimenez, let alone leaving the country entirely.
Chefs Chele and Rafa have also just returned from a similar journey throughout Spain. This is just another example of how Blue Osa does its best to give back to the community that supports its existence.
Sarah Barnes is currently a volunteer in paradise at Blue Osa Yoga Retreat in Costa Rica where she is a blogger, photographer and yoga instructor. Sarah is a 200 level RYT, owner of Modern Warrior Yoga and alumni of Texas Tech University where she graduated with International Business and a Photo Communications degrees. She recently left her 9 to 5 job as a communications professional to explore the world.
Tags:
blue osa
,
Community
,
Corcovado School
,
Costa Rica
,
local
,
pura vida
,
yoga
---
Yoga Trade