"Surfing Macroeconomic Theory: Waves attract surfers. Surfing attracts energy. Energy attracts people. People attract capital. Investment attracts development. And so it goes. A quick survey from outer space would likely show an inordinate number of major coastal cities expanding outwards in concentric waves from a quality surf break." — Steve Barilotti, Author
While yoga and surf travel have become leading niche markets in the global tourism industry, rarely do we stop to ponder the impact our destination lifestyles have on the coastal communities and natural environments where we travel to indulge our soulful meanderings.
Have you ever noticed that many of your favorite international yoga epicenters are also world-class surf spots? And similarly, do you find it strange – or even admittedly comforting – that many of these places, as they grow and develop to cater to surf and yoga tourists, end up looking and feeling the same in terms of accommodations, food and available amenities? Interestingly, yoga tourism tends to follow in the wake of surf tourism, after the initial exploratory phase when infrastructure and amenities begin to take root and surf destinations turn into towns built around surf and yoga experiences for tourists. After all, both surfers and yogis are often chasing the same sort of environment for a pristine nature immersion away from the crowds. In that search, however, we end up contributing to the complete transformation of both cultural and natural landscapes in the places we love to travel for surf and yoga.
As a sustainable tourism consultant, I've written extensively on the detrimental impacts of surfing tourism on coastal communities around the world, calling for locally defined standards for sustainable tourism and alternatives to development in surfing destinations. Now that yoga travel has become an international phenomenon to be reckoned with, it's time we also interrogate the foundations of our travel-to-practice-and-teach-yoga lifestyle while exploring the potential for greater sustainability in the ways we approach our next yoga travel adventure.
First and foremost, let's be realistic and not sugar-coat the environmental damage associated with the jet-set travel lifestyle common to many of us living a semi-nomadic yoga life. Fossil fuels and carbon emissions are the leading cause of climate change, and every time we hop on a long-distance flight to live our dreams in yoga paradise, we are contributing to the irreversible destruction of the planet. In addition, most of us are guilty of consuming more single-use plastics while traveling than when we're at home. And, we're less likely to prioritize sustainable producers if it means forfeiting convenience while we travel. Often, the result is a net increase in unsustainable consumption habits when travelling versus staying at home. While we practice mindfulness on the yoga mat, it's also our responsibility to be mindful of our consumption habits when traveling, taking care to support Earth-minded service-providers and producers wherever humanly possible. Just because you're not at home doesn't mean you should let your sustainability priorities slide by the way-side.
Next, it's important to be aware of how we carry our modern lifestyles and cultural attributes with us in the places we travel to practice and teach yoga, with powerful (and not always positive) effects on local people and the natural environment. Among the challenges that local communities face as more and more visitors flood to previously isolated locations are: loss of culture as locals seek to emulate the modern lifestyle and attain tourism-centered livelihoods, social inequality and marginalization resulting from upward pressure on prices forcing locals out of tourist zones, and rampant development responding to heightened tourist demand with little concern for nature. While we fulfill our yoga travel dreams, it's important to be honest with ourselves in recognizing the impact we have on local places and people, no matter how positive our spiritual intentions may be.
Yes, surf and yoga tourism can help create jobs for local people and potentially contribute to deeper spiritual awareness as locals begin learning to surf and practicing yoga themselves. However, it's most frequently the case that the majority of businesses in surf and yoga destinations are owned by foreigners and not by locals, which contributes to deep social inequalities and further marginalization of local people as the town grows and develops around tourism. This is why seeking out locally owned businesses and service providers is a vital first step in bringing greater sustainability to the way we travel – in yoga destinations and beyond.
What can we do?
There are a few ways to lessen your footprint while travelling, all of which relate to adopting an attitude geared toward minimizing excess consumption and respecting local ways of life and livelihood. This means prioritizing locally owned businesses and behaving as if you are a guest in someone else's home wherever you go. Do your homework when booking accommodations and tours, as well as in choosing places to eat and shop, supporting locals as a means to improve their economic wellbeing and ensure that more money stays within the town's economy. Eat local as much as possible, avoiding the imported goods you are familiar with at home. After all, there's a reason you've left your comfort zone, and eating local is one of the easiest ways to contribute to greater sustainability while you travel.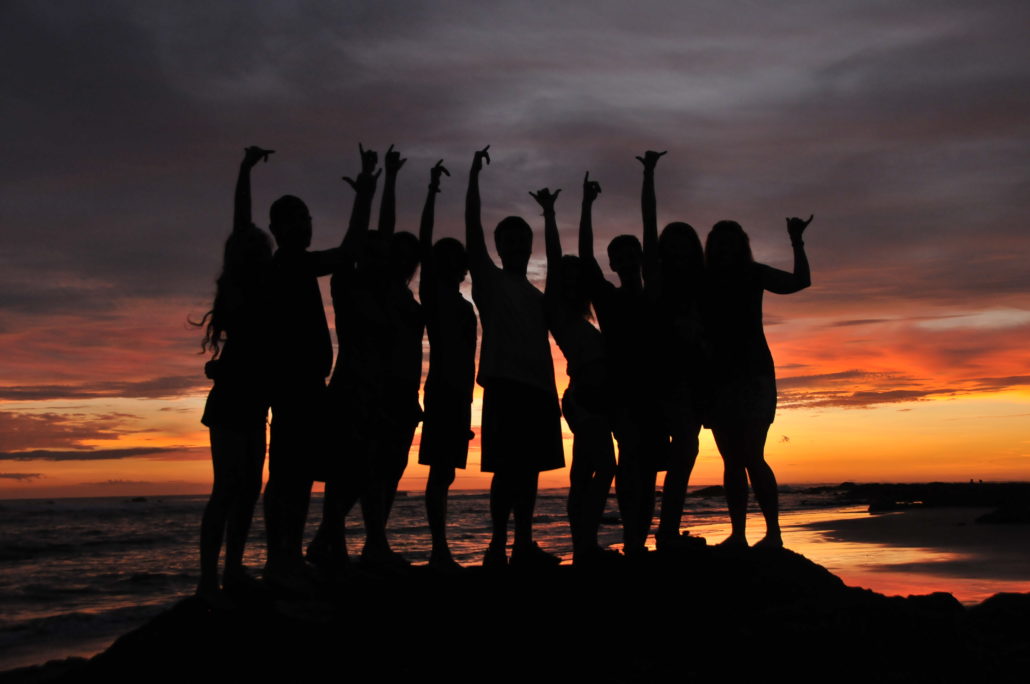 Learn the local cultural standards and attune your actions accordingly, taking care to stay respectful in honoring cultural differences. Take an interest in the culture so local residents can feel that their way of life is beautiful and intrinsically valuable, not somehow backwards or less than in the ways it differs from the dominant modern lifestyle. This will also contribute to a more authentic travel experience if locals see that tourists are taking a real interest in their culture and not just looking for the same creature comforts curated to mimic modern amenities and help tourists feel at home.
And finally, hold your foreign service providers and fellow travelers accountable to sustainable practices, including waste water treatment, solid waste management, minimizing consumption and avoiding the use of single-use plastics. If you see foreign business owners cutting corners on essential sustainability practices and harming the natural environment in the process, say something. As a guest, you have an important role to play in helping hold business owners accountable to the environment, especially in places where regulation is lax, non-existent or unenforced.
Similarly, bring your own containers for to-go orders at restaurants, and ask the juice bar to fill up your water bottle instead of using a disposable plastic cup. Most importantly, avoid the temptation to lecture locals about sustainability – they are not to blame for the piles of trash left by visiting tourists. Instead, lead by example and encourage your travelling yogi comrades to do their part in leaving as little trace as possible in the places we love to practice and teach around the world.
When it comes to sustainable yoga travel, we are the change we have been waiting for.
Tara Ruttenberg is a writer, surfer, yogini and sustainability consultant in Santa Teresa, Costa Rica. Tara created Tarantula Surf (www.tarantulasurf.com / @tarantulasurf) as a space for authentic story sharing and engaging with new living paradigms.
Tags:
surf and yoga tourism
,
sustainability
,
sustainable tourism
,
sustainable travel
,
Yoga Travel
---

Yoga Trade