I don't care how many besties you have, going on a vacation with a bunch of women – complete strangers at that – is probably the best thing you can do for your soul. In February I went on the beta retreat with a company called Reset Retreat, an exclusive women's wellness and adventure retreat in Belize.
Upon arriving in Ambergris Caye, I met 16 new women not only to laugh, paddleboard, crow pose, and drink wine with, but also confide in and share life experiences.
I've gone on girls-only trips before – usually with a group I handpicked to join my jet setting adventures. They are always a blast but there's the inevitable bickering, talking about the same stuff you talk about in your regular life, cliques, and the ubiquitous Facebook tagging. It's the normal stuff just in a prettier setting. Rarely ever is it life changing.
Reset Retreat was different. It was what you would call life changing. It was a week of getting pulled out of your comfort zone, then teaching yourself how to make it comfortable again.
Instead of telling you about all the amazing things we did (short version: delicious group dinners, sunrise yoga on the beach, shopping, mingling with locals, boating adventures, volunteering at local schools, private one-on-one yoga, sharing carafes of Sangria and more), I'm going to tell you about four women I met and what I learned about myself or about life because of them:
Viktorya – She's just as unique as the spelling of her name if that tells you anything. Just a few years younger than me, I learned that because of my career and keep-going-
no-matter-what attitude I've embraced throughout life that people actually look up to me. Even saying it now feels a little weird, but it's true. The course I've taken to create my own job, no matter how daunting of a process as its been, Viktorya showed me for the first time I've become one of the women I used to look up to. Am I exactly where I want to be in life and in my career? Absolutely not. But I'm making my own path and doing things my way, and I'm encouraging others along the way.
During our time chatting about pretty much everything, Viktorya looked to me for advice on how to venture into her own business. We talked about the pros and cons of going out on your own, but she really uplifted me in many ways, mostly from a career standpoint. I had a chance to share all the things I wish someone had taught me when I was first starting my own business, and it felt incredible.
I get so bogged down (my own fault) with all the to-dos and stresses of my job that sometimes I forget how hard I've worked to get where I am. I've forgotten to pat myself on the back for a job well done. Learning that valuable part of life, especially from another young and brilliant female, that's a new kind of power and pride I've never experienced.
I don't think I've ever met someone so much like myself until I met Viktorya. We are both women that have some of the hardest exteriors you'll ever see, but the softest and most brittle insides and emotions that exist. Having conversations with Viktorya was effortless because most of the time we didn't need to say much – we already understood each other. I think if I had a twin-soul in this world, it would most definitely be her.
Stacy – Thanks to her sweet southern accent, she will forever be Miss Stacy to me. This woman opened not only my eyes, but my heart also. Although we come from very different backgrounds, are more than a decade apart in age and our jobs are about as varied as they come, Miss Stacy has the exact same battles and fears as I do.
I don't often meet another "only child" so off the bat we bonded on those grounds alone. Being an only child is a unique way to experience life. If you come from a huge family (i.e. the kind that designates a kid's table at holidays or having to eat in shifts) then you might not be able to relate, but one of my biggest fears in life is going through it alone. Growing up, it was pretty much just me, my mom and my dad. Having a small family can be great, but it can also be scary. What happens when they're no longer in your life and you're left by yourself?
Sadly, I am already living that fear of going through life alone, without family. That might be the most difficult sentence I've ever written. I have had to recently learn what that means – it means accepting invitations from friends for Easter Brunch and being beyond grateful to get those invitations. It means finding where you belong in this world or focusing on making your own family one-day. Don't focus on what you can potentially lose, but enjoy it and live in the moment and have confidence you'll be OK no matter what.
What's weird is that I'm about 10-15 years younger than Miss Stacy but I'm the one sharing my advice and experiences on the potential loneliness that comes with being an only child. What I learned from Miss Stacy was that we shared those feelings and they were normal. I'm not sure I've ever had a heart-to-heart about this and it was incredibly comforting to know that all the "spoiled rotten" jokes aside, there is real pain and fear that can come along with being an only child. Plus, Miss Stacy is really big into NASCAR (as in obsessed!) and since I work in sports, we will forever be friends.
Courtney – I've never met a soul quite like hers. I have really really good friends that have been in my life for 7 years that I've never said I Love You to and I'm pretty sure I said those words to Courtney on day two of the retreat. We just bonded. A lot of that had to do with her genuine personality – Courtney is 100% interested in the person she's talking with. She asks questions, she smiles, she hugs – she does what I imagine a cooler and more down-to-earth version of Zooey Deschanel as a bestie would do.
Courtney reconfirmed my faith that there are in fact good humans in this world. She's that friend who makes me want to be a better person. When we talk, I want to share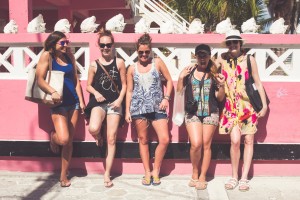 good news and positive thoughts instead of dwelling on the bad parts of my day or complaining about another failed relationship. To give an example of how selfless and free Courtney is, one night on the trip I commented how much I loved the dress she was wearing. You know what she did? She took it off and opened my closet and grabbed one of mine. She didn't even think twice. She knew she'd feel comfortable, happy and pretty in just about anything and if that dress made me feel like a bohemian princess for the night, then my wish was her command.
You don't find many Courtney's in this world (and if you do, hold on tight!). Courtney taught me two important things at Reset Retreat. First – I want more Courtneys in my life. I want friends who are interested in our conversation and are present. I want to talk on the phone to friends that you can actually hear when they smile.
Secondly, stealing from old Michael Jordan ads, I want to be more like Courtney. Instead of just looking for those awesome people that make me feel good, I want to make a conscious effort to be one of those people. I want to put my phone down when they are talking and make eye contact. I want to get over my personal space issues and start hugging more – in a real and genuine manner. So friends – be prepared for lots of hugs. You can thank Courtney for that.
Jo Lynn – Jo Lynn was one of those women that needed to come into my life. Old enough to be my mom (not a knock, just a fact), I was drawn to her in the beginning of the week relaxing by the pool or grabbing a cocktail before dinner.
I don't mean to play the woe is me card, but life has dealt me a few bad hands over the years. Sometimes I let that anger and frustration (sometimes even depression) get the best of me and I want to give the world the middle finger. I'm not saying that Jo Lynn should give the world the middle finger, but she has every right to and is proof of a strong woman that has had more than her fair share of heartache.
A few years ago she unexpectedly lost her husband to a heart attack. Listening to her talk about her late husband is one of the most tear-inducing things I've ever witnessed. But hearing her talk about her late husband taught me my love-goal in life, which is to find that kind of love. I've spent the last 33 years looking for it, but I want that.
What I learned from Jo Lynn is that even when your heart literally breaks, you have to keep moving. She doesn't pretend it's an easy task nor does she shy away from the tears when they start rolling down her face, but she wakes up everyday and puts on her makeup and some frizz control in that crazy hair of hers and does her best.
Because that's all any of us can do – our best.
At Reset Retreat, it was the adventure within the adventure that happily caught me by surprise and the beautiful women I formed a forever bond with. If you're looking to be caught be surprise, check out their next trip scheduled November 4th – 9th, and as an added bonus, they'll pay for your flight from Texas (use code "FLYFREE"). I can't guarantee you'll find your Viktorya, Miss Stacy, Courtney or Jo Lynn there, but I can promise you'll learn some incredibly valuable things about your life and what you're capable of.
A freelance sports + travel + fitness writer based in Houston, Jayme founded The Blonde Side five years ago and continues to travel the world for sports-related events and to find herself.
---

Yoga Trade