One year ago I decided to leave my country to explore the world doing Yoga. Ive been practicing asana since I was 15, but had never thought I'd ever study to become a yoga teacher. When I started the trip I didn't know exactly what countries I wanted to visit or how this was going to play out, I just had some clues, ideas, a mental map of what I wanted to do. A MUST was going to India to do a Yoga TTC.
In my mind, I had planned to do this in December 2016, but in the middle of the trip I was in Hawaii and I decided I wanted to leave to India right at that moment (September 2016). It was something I can't explain as a mental process, it was just a call from destiny that I had to take. One month later I was arriving in New Delhi, the capital of India. I cannot lie, at the beginning it was a real shock for me…everything. The noise, the heat, so many people, everything so crowded, the food, I was not the kind of girl that immediately falls in love with India, it was something that came with the process; in the end, I liked it that way because slowly but surely, you fall in love with things much deeper than when it's just a crush.
Finally I was there, living one of the most intense experiences of my life. Everyday we woke up at 5:30 am and started practicing Hatha Yoga, then Pranayama; after 3 hours being up, we finally had breakfast, and then the day went on, class after class. At 8:30 pm more less, we were done, but it was really intense each day, not only because of the obvious things, but also because you are living your own process, and at the same time 15 more people like you are living their own process too; that deep journey inside yourself, a lot of intense, hard stuff comes out. In the third week, the magic happened and I was feeling much better; my ashtanga practice was improving a lot and I felt I was unstoppable; I felt I never wanted to stop practicing. Every time I went to a cafe with my friend, I could hear everybody talking about the same, even though they studied in different schools; everyone had the same issues and concerns, and I, who felt my feelings were so special, was actually feeling much the same as everybody else! ( hehe)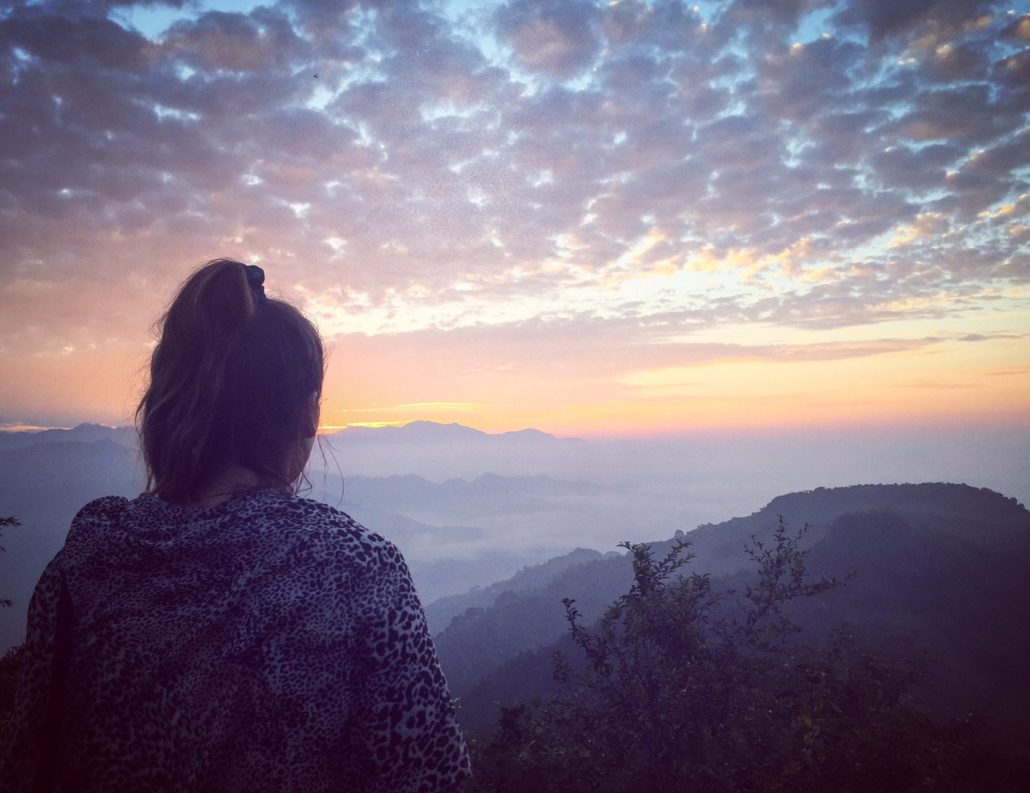 Anyway, I don´t want to talk so deeply about the TTC exactly but about what happened inside after living that experience in that part of the world with those teachers. Rishikes, India is a small city 230 kms away from New Delhi; it is a sacred city, the world capital of Yoga and it is one of the most special places I've been to; surrounded by the Himalayas, separated by Maa Ganga, and full of Yoga schools, Babas, Gurujis and all of us; westerners trying to learn from the source and the root. This place is pure magic, they don´t sell alcohol, or meat, and everything closes at around 9-10 pm.
Those days in that place, after that experience I wrote: How can you be the same after your eyes have seen the most beautiful and the ugliest both outside and inside yourself… I still don't know if I've found my destiny but it feels like something very profound. I'm not the same person that arrived back a month ago; something has changed; priorities are not the same. I truly feel lighter inside, and I've finally understood what really matters in life for me. I don't want to argue anymore with people just to be right. I want to be more patient everyday. Sitting at the banks of Mother Ganga taught me so much about letting things and people go, about having complete certainty in the process and timing of things. This doesn't mean I never feel things anymore or that I'm a Hipster-Hippie, it means I feel things deeply in my heart but everyday the distance between my feelings, the reaction and the letting go of the control is shorter, and that is priceless. It is not all about India, but Rishikesh helped a lot. ( I think Alanis Morrissette also felt that way when singing "Thank you India")
In my opinion, it is really important to find a School – an Ashram to study and stay where you feel like you're at home for that month or 2 months that you´ll be living there. To this end, I can totally recommend the place where I studied: Anadi Yoga Centre, not only because of the incredible Indian Teachers with a lot of teaching experience, but they are also very concerned about sharing the Yoga knowledge in a very professional and passionate way, instilling in you the wish to do and give your best everyday, and always very open to addressing all your doubts and concerns. ( Trust me, there are many, many schools that are just businesses )
My connection with this place is so deep that I decided to go back to study more, and to live there so I could experience it in a different way this time. Totally worth it. Rishikesh, India is a place that I can also call Home, because there I feel nearer to myself, to the true being that I am.
Namaste
Fiorella is a Chilean Wanderlust Yogini & Travel Blogger. Her personal seal is to share about everything that has made her a happier and healthier person. Her beliefs: Kabbalah, Her Life Philosophy: Yoga. // www.fioreyogini.com @fioreyogini
Tags:
200HR
,
ASHTANGA VINYASA
,
India
,
RISHIKESH
,
TTC
,
yoga
,
YTT
---

Yoga Trade