With the recent and rapid rise in technology, there are fewer places in the world we can be completely off-the-grid. Places to slow down, to enjoy the quiet, to learn from the elements. These types of sanctuaries are becoming a sort of endangered species. Yet, there are some amazing people out there who are walking the path of their dharma to keep these kinds of places alive. People that prioritize living simply, hope to create a better world, believe in harmonizing with nature and realize the benefits of multi generational environments. People that have a desire (vision), make an intention, and take action! The Sea family are some of these people. In just several years, they have brought their dream into reality and have created a full-on inspirational wonderland and educational/retreat center in Sumba, Indonesia. If you are someone who is curious, finds delight in exploring, and enjoys connecting with natural rhythms, you will love the magic of Ngalung Kalla.
From the words of Ngalung Kalla visionary, Christian Sea:
"We aim to be a small family owned and community led retreat where people can come to a very remote place and have an unforgettable experience. We offer accommodation, fresh local grown healthy food, excellent guiding to areas unknown, and empower visitors to live more simply and enjoy life more fully. We strive to do so in a low impact way utilizing solar power, permaculture principles, efficient and indigenous design, and local materials and staff whenever possible.
A trip to Sumba is not complete without a stroll through one of the incredible villages. A look inside one of their houses, a chat with an elder, maybe even a shot at the betelnut experience. We are not your average hotel. Nor are we your above average hotel. In fact, we don't consider ourselves anywhere within that spectrum. We are a retreat away from the modern world and anything else. We consider ourselves (and are) a part of this unique community and our aim is to share this incredibly authentic life and place with you.

The majority of the people here still have "Marapu" as their religion. This literally means "the way of the ancestors" and is an animist system of medicine men/women, priests, kapus (Adat), and many associated ceremonies at the right times of year (also common for births/deaths/marriages). They use the moon, the tides, the animals, plants, the land, the forest and many other aspects of nature in determining their steps. It's a very magnificent existence really. Their lives are still very much devoid of currency exchanges. Instead they use the things they can raise (food and animals), and make (hand woven fabric and mats, spears, knives, jewelry, etc.) for trades. What a beautiful concept!"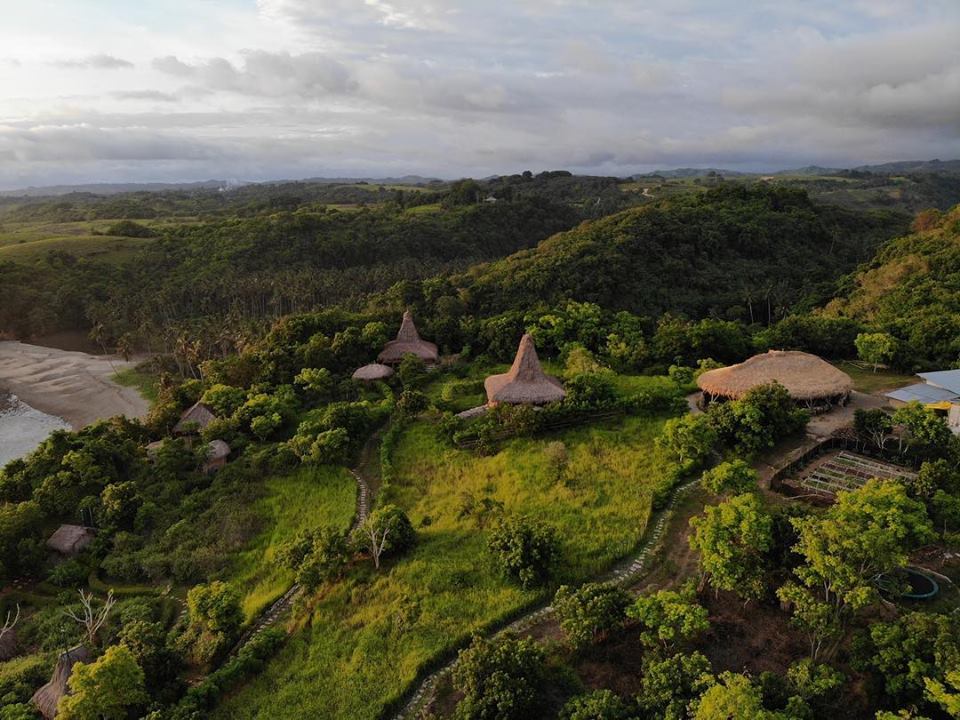 ---
Newly certified yoga teacher and world traveler, Amanda Bertucci connected to a work exchange opportunity thru Yoga Trade and spent two months at Ngalang Kalla in 2018. Below, we catch up with Amanda as she shares about her experience: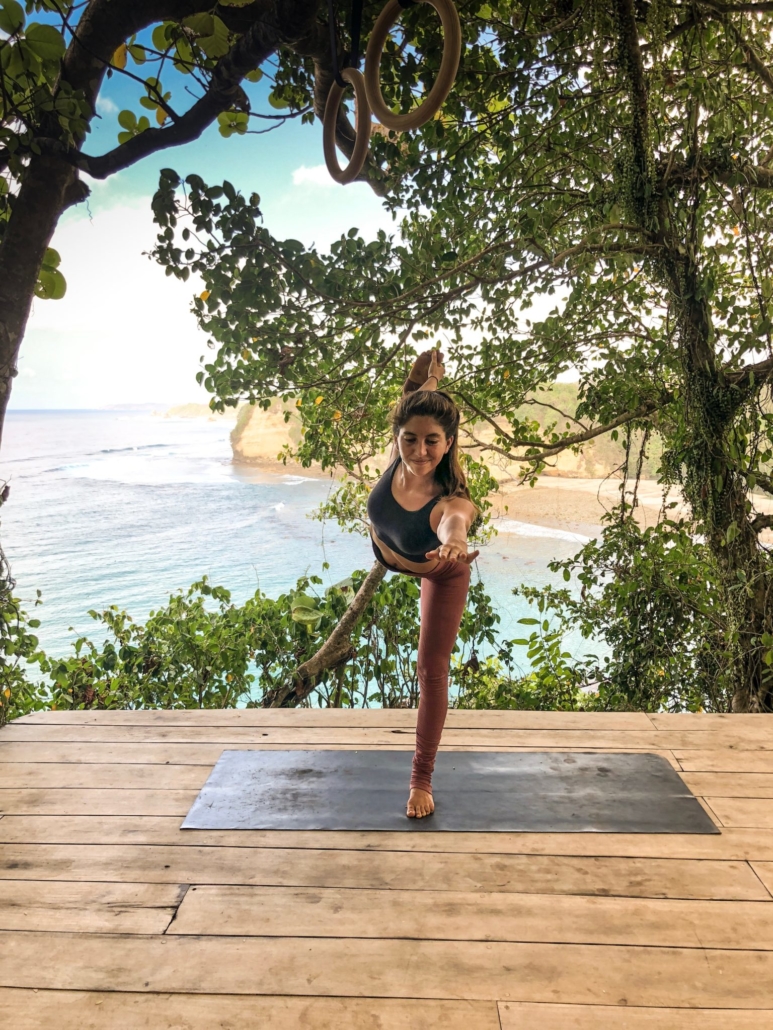 Can you tell us what a typical day was like for you at Ngalung Kalla?
At Ngalung Kalla, your body clock is reset to align with nature. Live by the sun and eat when hungry. My morning would typically start between 5 to 6am, either on the boat, in the ocean or the yoga deck, during or just following sunrise. The yoga class schedule is determined nightly for the following day and caters to what the guests desire (sunrise yoga, dawn patrol surf or dive, early bird-watch hike, sleep in). Typically, if not on a paddle board or meditating on the floating pontoon in the bay, I would be found stretching on the deck. Waves crashing, flowers falling, tropical breeze from the overhead trees circulating calming aromas, this space is unlike anywhere I have ever practiced and meditative in itself. 
Following practice is smoothie and breakfast time! Fresh coconut water, papaya, and spirulina, and either a sweet or savory healthy brekkie combined with the shining sun supplements. A complete energy source for the day. The retreat is located in a bay shared with a local village and is home to some pretty special snorkeling and a premium right-hander surf spot and inside learner's wave. This is usually where I'd be throughout the day, if not running around with the kids or exploring the jungle on a land mission.
Afternoons start with a yummy lunch usually followed by a boat adventure, surf, hike to the cool springs, tidepools, village, or mellow hammock hang time with a book. For the yogis we'd sometimes have multiple practices a day or kiddie yoga if the little ones want to wind down. Often, I'd find myself in the kitchen during the scorching parts of the afternoon, laughing with the local women as they would teach me to speak Bahasa Indonesian.
In the evening, we all gather by the campfire and watch the sky change colors as the sun sets over the bay. Cellphones, computers, and televisions are non-existent and not necessary when surrounded by the Ngalung Kalla family of like-minded, wonderful people. Conversations never fall flat and there is always the possibility of creating a special connection with someone new. "Sumba Midnight" is usually around 8pm after the sun has set and dinner has everyone feeling happy and satisfied. By this time, I know I'm ready for an ocean lullaby and dreamy sleep. Gratitudes to the island, this life and stoked to do it all again tomorrow.
What is your biggest take away from your time spent there?
Embrace the simplicity, less is more. Take quick efficient showers. Shout out to Christian on this one for a much-appreciated lesson of where the water we shower with comes from. From a hand dug well, water is carted and carried and can in fact run out if not conscious of our usage. In the villages, women and children of all ages walk for miles to and from the well with heavy loads of water for their families. Food for thought next time turning on a tap. Another big takeaway is understanding that what we need, we have. We are all so very capable of more than we may realize and give ourselves credit for. Openness to learn more about that which we don't understand can change our lives in more ways than money. Leave mama nature better than you find her. Please and thank you. Less if not any plastic, more environmentally conscious (homemade and waste-free when possible) products, and please double check that your sunscreen is reef safe!
Describe the Sea family…
When you visit Ngalung Kalla, you are literally visiting the home of the Sea family. Three young girls; Deha (9), Kamali'i (7), and baby Wren Kaleleyanu (1), all raised on the island, fluent in Bahasa Indonesian and crazy intelligent. Full on jungle girls, kind, fearless and full of life. Credits to the radical parent duo Ka'ale and Christian who have lived on Sumba the past 14 years after moving over from Hawai'i. Deha will tell you that the animals are part of the family and I certainly agree! More than 20 "pets", not including the geckos, toads, wolf snakes, mice and other creature friends they adopt. Five dogs, chickens, a pigeon, goats, ducks, and Lily the pig, Kamali'i's sidekick and best mate. All cared for by Deha and Kamali'i. Some of my favorite days were spent with the girls, frolicking barefoot through the jungle, using fallen logs to jump over and splashing around in desolate cool water springs. Dressing up with monstera leaves and dancing around. Enjoying nature's obstacle course.
Can you explain the benefits you see for families to visit Ngalung Kalla?
I think visiting a place like Ngalung Kalla and seeing how simple and doable sustainable living can be, is inspiring for anyone and everyone, especially families! To slow down and reconnect with nature is not only a humbling and grounding experience for adults, but an important part of childhood development and connecting to the roots. Socializing with new friends, talking about the environment, witnessing a beautiful culture, and creating bonds with animals. The lack of modern day distractions allows families to be completely present with each other and experience compassion and gratitude for being able to enjoy something so magical, together.
Did your relationship with nature change at all while you were there?
Totally! And once again I have my two favorite little jungle sisters to thank for that. I've loved being outdoors and surrounded by nature since I was really young – digging out worms in the garden to save them from the birds soaring above. At Ngalung Kalla, sleeping in the open air, showering outside and counting on one hand the time I even wore shoes, truly strengthened this bond. My curiosity about permaculture and living off the land heightened and in the same moment I realized how little I was among the vast ocean and jungle. I know that my life course is directed to living as closely with nature as possible.
What's next for you?
Following two months at Ngalung Kalla, I spent a short time travelling before fully immersing myself into the yoga community on Bali and taking the time to expand my personal practice. I've always been a kinesthetic learner and teach based on experience rather than theory. I spent a month of daily Mysore with an incredible mentor, expanding my practice to new branches of asana and meditation and finding my niche. While I love the challenge of an intense practice, my teaching style guides me in the direction of active restorative and conscious vinyasa. Healing pain and ailments in the body through simple, balanced movements, while strengthening the core through combined breathwork. I will be returning to teach at Ngalung Kalla for March and April 2019. As of now I do not have further plans and will be feeling out opportunities, open to what the universe has to offer as I continue traveling and teaching.
Anything else you'd like to share?
I consider Ngalung Kalla to be the most epic and untouched oasis I have been lucky to have come across on my journey through life and around the world. Picture this: you get off a plane only 50 minutes from Bali, to an island untouched and uncrowded. Inhabited mostly by locals in homes so beautifully created by the land's offerings that they are camouflaged within the surrounding nature. Ngalung Kalla is an eco retreat with that same naturalistic design, with a focus on permanent agriculture and operating as sustainably as possible. Fresh, organic, home-grown fruits and veggies and a coconut grove that would bypass any palm tree lover's wildest dreams. My favorite thing about Ngalung Kalla, besides the ocean view villa, delicious fresh food and killer weather, is the ability to learn something new everyday if you're willing. There truly is something for everyone. For me it was tying different knots, finally learning to play chess (thanks Kama!), operating the boat, identifying wildlife, plant medicine and of course, surfing. This time around I'll be spending more time in the garden. In my opinion, raw luxury is the best way to describe Ngalung Kalla; rugged and natural with comforting amenities like a hot shower and cozy bed. The retreat isn't a one-size-fits-all kind of place and each individual is bound to have a different experience and gain a new perspective on a unique type of life. But that's just my take. My suggestion: fly way outside of your comfort zone, explore the beauty Sumba and Ngalung Kalla have to offer and get inspired!
Connect with Amanda and follow her on Instagram here:  @amandabertucci
---
Ngalung Kalla is a remote family owned and operated eco-retreat and farm in West Sumba, Indonesia. They provide an adventurous, healthy, comfortable experience for guests. The center is designed with maximum respect for the Earth and consideration for the local climate and people. The local indigenous culture and community have a high priority in all aspects of this retreat's design and implementation. It is a wonderful place for families, friends, and solo travelers. Experience simple goodness. Visit Ngalung Kalla!
IG:  @ngalung_kalla
Check out this exciting and upcoming event they are offering in March 2019!
Tags:
Eco Retreat
,
Family Retreat
,
Indonesia
,
living yoga
,
Ngalung Kalla
,
permaculture
,
Regenerative Design
,
Sumba
,
Sustainble Living
---

Yoga Trade