"The cure for anything is salt water; sweat, tears, or the sea."
Here we catch up with Kirstin Thompson, a salty lover and the Editor in Chief at Salty at Heart. Kirstin gives us the down low on the empowering journal, inspires us to make positive change in the world, and gets us stoked on life! Yewwwww!
Tell us about the vision at Salty at Heart…
Salty at Heart began as a vision for a printed inspirational journal that embodied all of the pure, organic, empowering vibes that seem despairingly unavailable in mainstream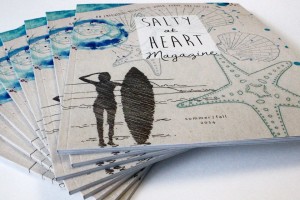 media. Its foundation is based upon an idea: That you are valuable. You matter. You have the right to be happy, to love, to be free. That this planet is precious. That life is precious. And that all things are connected. The vision is to create a global community, serve as a voice for artists, musicians, writers, environmentalists, surfers, and organizations, and to give a chance for the feminine energy to shine. Since the project began, my mission for the impact of Salty at Heart has evolved into a desire to create a movement towards sustainability and equality worldwide.
How have surfing and yoga influenced your life?
Surfing taught me that I am strong, powerful, graceful, and small, all at once. The ocean and surfing made me realize that I am indeed connected to something much grander than my little life on earth – you and I are connected to this entire, grand, beautiful crazy Universe, and it's such a wonderful terrible thing. It taught me that despite the challenges I have faced as a woman, there is a place I can feel wild and free – the ocean is one of them, but also within my own heart. It taught me to embrace so many wonderful people, to drift with the wind, and to live by my own standards. Yoga also came into my life right around the time that surfing did, and furthered my respect and love for my body and soul. I have known a few yoga instructors in my life who I can graciously admit inspired me to let go of my fears, surrender to this moment, and let love in. I struggle with pain in my back from nerve damage, and yoga and surfing have both been serious life savers for me when the going gets tough.
Have you ever participated in any kind of yoga trade or volunteering and how did you benefit from it?
Yes, I volunteered at Yoga Farm– a sustainable farm and yoga retreat in Costa Rica. We helped in the garden and around the farm in exchange for yoga and affordable boarding. It was such a beautiful experience, with waves, yoga, healthy food, and great people. I actually met some people there who inspired the formation of this journal!
How do you bring sustainability practices into your daily life?
I do not do as much as I wish I could! When I lived near work I made sure to bike there as well as to yoga class as much as possible, but unfortunately where I am living at the
moment makes biking impossible. I aim to live somewhere eventually that is bike-friendly. I buy produce from the farmer's market, use glass re-usable containers like ball jars and glass Tupperware, buy local as much as possible, and look on craigslist or at a thrift store before buying anything new.
Who or what have been your greatest teachers?
Traveling, surfing, the wildness of animals such as whales, dolphins, and wolves, books and words of inspiration from people like Jane Goodall, Maya Angelou, Ellen DeGeneres, Emma Watson, and Mary Oliver, the wonderful souls I have met along my journey through life, the people who have maintained faith in me over the years, and my crazy beautiful sister.
Anything else you would like to share with the Yoga Trade community…
Surround yourself with people and an environment that make you smile from the inside out. If you look around and this is not your reality, then get out there and find it! This world is a huge place. I know I'm still searching the world over for new and wonderful things – maybe I am destined to be an eternal drifter, but then again, maybe I will fall in love with a place to call my own one day. Either way, it doesn't matter. The most important thing is that you know you are free and beautiful, and never let anyone tell you otherwise.
Kirstin Thompson is the Editor in Chief  at Salty at Heart. Kirstin, originally from sunny Florida, graduated with a BS in Environmental Studies at Florida State University and continues to take interest in sustainability and women's studies. As a freelance writer, surf instructor, passionate traveler, environmentalist, and advocate of all things ocean, Kirstin hopes to inspire others to follow the path of the heart and take a creative approach to life in a way that provides for a free and meaningful existence.
CONNECT with SALTY AT HEART!!!
Facebook: https://www.facebook.com/SaltyatHeart
Website: www.saltyatheart.com
Instagram: https://instagram.com/saltyatheart/
Twitter: https://twitter.com/saltyatheart
Tags:
Ocean
,
Salty at Heart
,
surf
,
sustainability
,
Yoga Farm
---

Yoga Trade