Words from Rochelle Ballard. Originally published in The Current.
When I was a young girl growing up on Kauai, life was simple and pretty sweet. My biggest adversity was being caucasian, a racial minority in Hawaii. Other than feeling some insecurities and inferiority at times, I was in an environment where the world was my oyster in a small shell. As kids we grew up playing in the tropical jungles of our backyards and riding our bikes to the beach to surf and play when school was out.
Around that time, my next door neighbor was a yoga teacher and a massage therapist. One day, at 16, I experienced my first surfing injury; I fell awkwardly on a wave, felt a pinch in my muscles and pain shot through my body, which shortened my breath and restricted my back and neck.  
The next day, I walked next door to my neighbor's house to see what she could do to get rid of the pain and limitations I was feeling. She massaged me, shared some yoga postures, and most importantly, taught me about my breath and how to use it with awareness.  
A couple years went by, and by that time I was out of high school and decided that I wanted to be a wellness facilitator. I immediately returned to my next door neighbor to learn more about Yoga and massage training courses. I also learned from some great teachers in Hanalei, those who taught me deep tissue, lomi lomi, and sports massage.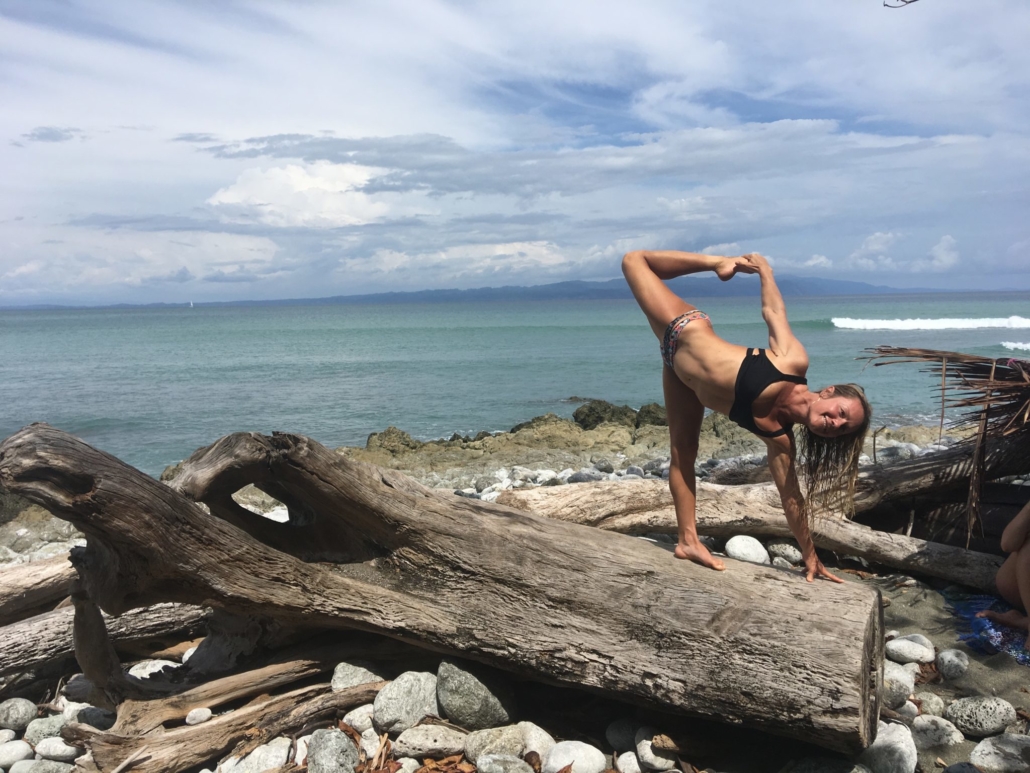 As I continued developing my skills as a wellness facilitator, I set out on the World Professional Surfing Tour to pursue my dreams of becoming a world class surfer and traveling the world, in search of the best waves and cultural experiences. During the first few years of my professional surfing career, I split my time between competing and practicing bodywork on the most elite male surfers on tour.  
After a fews years, I decided to further focus on my surfing career, applying my learnings and experience with wellness into my own progression of athleticism. Yoga became an integral part of program, as it enabled me to focus my mind and body, calm my peaking adrenaline, fears, anticipations, and disappointments.  My breath work and the sequences of Ashtanga, Hatha, and Pranayama, brought my mind and body into each present moment. As a professional athlete, the demands of travel, pressure of competition, and constant body exertion continued to draw me into a deeper practice of yoga. I remember taking classes whenever I had the opportunity, but it was my personal practice, listening to my body, exercises with breath, and dedication to trusting my instincts that grew my experience with yoga.  
By the end of 2006, I had been on the world championship surfing tour for 17 years. It was then that I decided to retire, and when it became time to change career gears, I chose to refocus my energy on wellness, including practicing massage again.  
From here, it was a natural step for me to document my practice in the form of an instructional yoga video inspired by surfing. Throughout my surf career, I'd made surf videos with my sponsors and ex husband. I'd also devoted time to give back to the sport and to the younger generations. This came naturally to me, so I surrounded myself with a team to execute the project. John Roderick, Chanelle Sladics, Leah Dawson, Jianca Lazarus, and my brother Hoku Gordines all contributed to creating the first Surf Into Yoga project. Jack Johnson, Donavon Frankenreiter, John Swift, and Kai Walsh, all surf friends, gifted their music to the project as well. The visual imagery of this film, the beautiful blue waters and waves of Hawaii, Indonesia and Micronesia, established the surfing inspiration and brought a dynamic feeling to the video. The beauty of the island elements – white sand beaches, black lava rocks, and lush tropical environments were captured in all instructional sequences. This was intentional – we wanted to give people from all over the world, from cities, rural towns, and inland locations an opportunity to experience the serenity and feel the aloha of these places.
This project was only the beginning of Surf Into Yoga. From the video concept stemmed a lifestyle business that at its core is an integration of surfing and yoga. Today, I've molded my two greatest passions together in synchronicity, and every day I get to share my experiences with my clients – the adversity of competing, stories from traveling the world, learning to be the most dynamic athlete I could be, focusing on preventing injury, and recovering from injury.  Surf Into Yoga is my way of giving back to the world, one person at a time, with exclusive attention. My business clientele extends to my visiting and resident clients, friends, family, the youth and non-profit groups for at risk kids and the less privileged.
Each day, it is my pledge to continue dedicating my life to my passion for surfing and wellness and I do this with aloha in my heart and a continued inspiration to share and learn.
Aloha.
SURF! Join Rochelle Ballard and the Yoga Trade Founders March 23-30, 2019 at the Yoga Farm, Costa Rica for a week of SURF COACHING, Yoga, and Sustainable Living!!!
https://www.yogafarmcostarica.org/surf-with-rochelle-ballard-and-yoga-trade/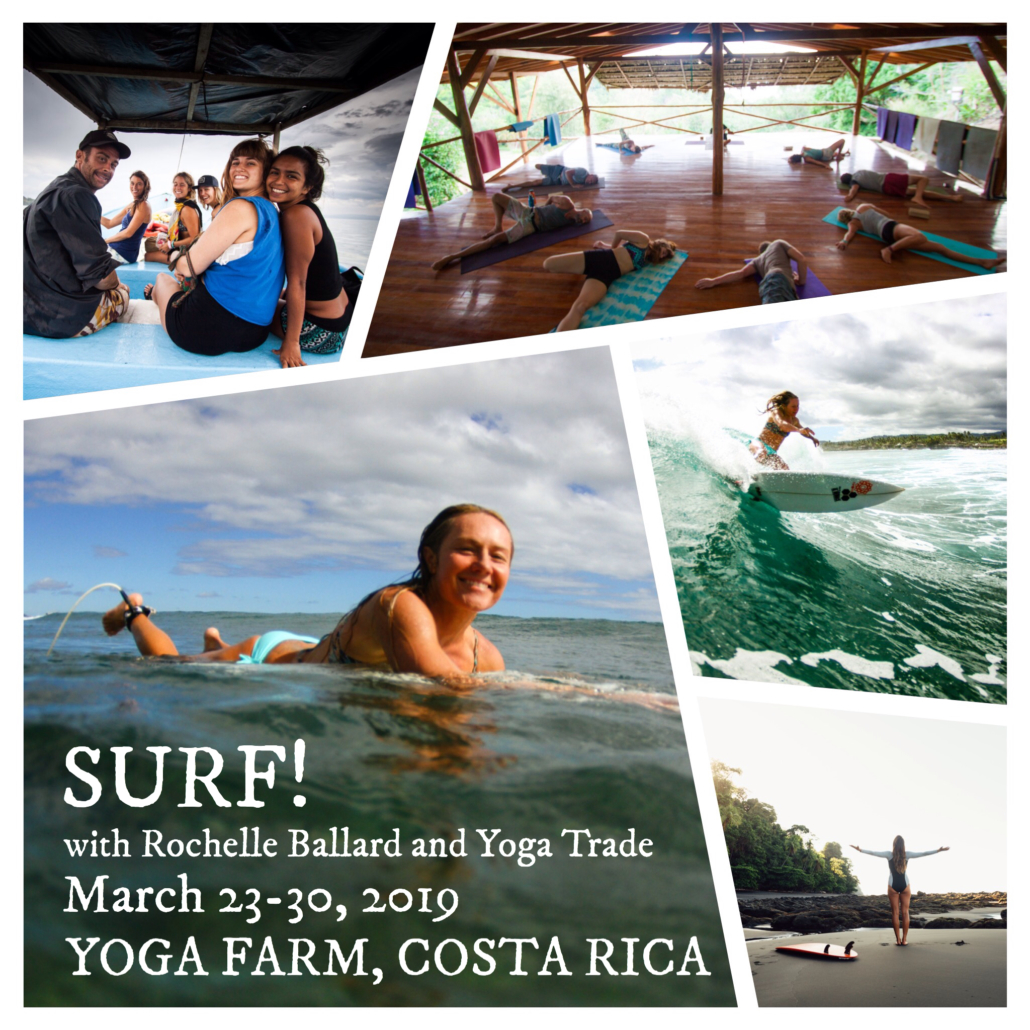 Rochelle Ballard's integrative Surf Into Yoga approach to wellness is born out of the knowledge and abilities acquired over 20 years of athletic triumph, injury, recovery, and victory. In the last 10 years she has apprenticed with facilitators and healer's in the practice of Lomi Lomi, Chi Nei Sang, Polarity, Deep Tissue, Aroma touch Essential Oils, and Reflexology. Rochelle believes that healing comes from within one's own desires to allow for change and growth. The best form of healing comes from joy, laughter and gratitude. Through forgiveness, prayer and meditation we are able to accept and acknowledge. By changing our habits, ways of thinking, eating, and movement, we are able to create long lasting dynamic physical changes.
This piece was originally published in THE CURRENT by Yoga Trade. You can download it here:
https://yogatrade.com/the-current/
Tags:
continuing education
,
Rochelle Ballard
,
surf
,
surf into yoga
,
surf travel
,
sustainable living
,
yoga retreat
---

Yoga Trade