I first became aware of The Yoga Nomads when I read this super resourceful article for yoga teachers. It is no secret that the nomadic yogi lifestyle is continuing to gain momentum and it is inspiration from people like this that make it just a little bit easier for some of us to take the first step toward following a dream. What is super unique about The Yoga Nomads is that they are able to live this lifestyle together. They have found a balanced flow in a way that compliments each other. Soak up this knowledge, wisdom, and brilliance. Meet Anne and Brandon:
How did you two meet?
We met in corporate sales selling software for Oracle just over 5 years ago! We started our jobs at the same time and ended up in the same training team. One of our very first conversations was about traveling.
What was the catalyst that made you quit your jobs to create a life of travel?
It's safe to say not ONE thing, but many, helped us to make the shift to a location independent lifestyle. A big catalyst certainly was yoga teacher training. We both 
completed 9-week programs (not at the same time) that undoubtedly helped us understand more about ourselves and what we were capable of as individuals. Just shortly after Anne graduated from her teacher training program, she lost her job for the third time in a row. Rather than settling for another unfulfilling career in corporate America, we began the conversation of traveling the world. The Yoga Nomads was born one night over pizza and beer and we bought our 1-way tickets to India soon after feeling hopeful and fearless.
How do you practice yoga off the mat?
The beauty of yoga is the ability to practice anywhere, anytime! In the last week I noticed a few great opportunities… staying calm during hour traffic, being fully present while on the phone with our parents, and even mindfully walking the dogs. Staying present and acting with intention is the goal of yoga off the mat.
Can you give us some tips on how to maintain healthy eating habits, sustainability, and personal practice while traveling?
Drinking enough water (with lemon!) is a top priority in maintaining a healthy lifestyle 
while traveling. If we aren't hydrated properly, everything else doesn't function at it's maximum potential. On that note, we always travel with our own water bottles so we aren't contributing to more waste. It's incredibly easy (and cheap!) to eat local because markets are everywhere you go. This helps us to eat healthy because we fill up on fruits and vegetables for snacks.
Thankfully, all the space we need for a personal practice is our travel yoga mat! Even in crowded accommodations, we are easily able to roll out our mat and practice some asanas. We hold each other accountable to practicing regularly, and always seek out studios in new cities.
Do you have a home base? Or are you always on the road?
Our home base is Minneapolis, MN. It is where we both grew up and where our families still reside. Currently, we are in the process of launching a new venture, Shift_Space, so we are home for the meantime, but will be traveling again soon.
Shift_Space creates temporary communities of remote workers and entrepreneurs who live, work, and play together in exotic places. Essentially we rent out an entire resort, turn it into a modern workspace, and then fill it with like minded people.
When you come back to the U.S. after traveling, do you ever experience challenges integrating back into "regular" life? How do you embrace this?
Absolutely. Reverse culture shock is a very real thing after spending significant time away. We are comforted in knowing we have gained a wider perspective on the greater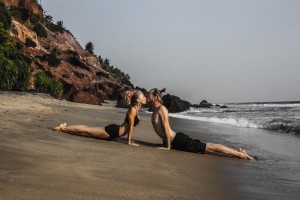 picture and find solace in having each other for support. Together, we try to maintain habits we've adopted from the road and continue to connect with others who have experienced something similar.
Do you think you will be traveling like this 10 years from now?
No doubt in our minds. Travel will always be a part of our lifestyles, however the frequency will ebb and flow depending on life circumstances. But it will always be a priority.
What are you most passionate about right now?
Creating a lifestyle that allows us the flexibility and freedom to live exactly how we want to each and every day. This will come from a place of authenticity and living our highest truth.
Anne and Brandon are an American couple who left their corporate jobs to travel and teach/practice yoga around the world. They run TheYogaNomads.com to help others do the same. They also create temporary communities of entrepreneurs and remote workers who live, work, and play together in exotic locations around the world at Shift_Space.
Follow The Yoga Nomads on:
Tags:
Adventure
,
nomad
,
The Yoga Nomads
,
travel
,
Wanderlust
,
yoga
---